There's a French touch in the NBA! In the 77th annual National Basketball Association (NBA) draft, not 1 but 4 Frenchmen were called up to join prestigious American teams.
June 22, 2023 will be remembered by all French basketball fans. It was a historic day, the likes of which it's hard to imagine! Unsurprisingly, but with a great deal of emotion nonetheless, it was Frenchman Victor Wembanyama who was the first to be called up at the annual draft held at Brooklyn's Barclays Center. A major event for bringing new blood into teams. The draft offers teams the opportunity to recruit the best talent in basketball, whether college players, internationals or players eligible for the draft after one or more years of professional experience. A godsend for our young French players, who have managed to carve out a place for themselves in the world's most prestigious basketball league, which includes teams in the US and Canada. The NBA is renowned for having seen some of the greatest basketball players of all time play in its league, including Michael Jordan, Magic Johnson, Larry Bird, Kareem Abdul-Jabbar, Kobe Bryant, LeBron James and Shaquille O'Neal. Iconic players who have made a major contribution to popularizing the sport around the world. And now it's "Wemby's" turn to take up the baton.
Victor Wembanyama: all eyes on him
If the 19-year-old prodigy was expected, the great emotion of the evening was that the Frenchman was the first to be called up to the stage by the league's commissioner, Adam Silver. This was a first for a French player, who thus made sports history. Trained by Nanterre, he is coming off a great season with Boulogne-Levallois, where he showed off some of his potential. In fact, he swept up every title in his path, being crowned best player (MVP), best prospect, best defender, best scorer, best rebounder, best counter-attacker and MVP of the All Star Game! He now joins a league and a club better suited to him: the San Antonio Spurs in Texas, which had already seen a Frenchman shine before him, Tony Parker! Needless to say, all eyes were on the French international, who is considered to be the biggest basketball prospect since LeBron James! Nothing less! This UFO, comparable to no other basketball player, brings together a host of qualities. A mixture of "Gobert on defense, Porzingis on offense, with Jokic-like passing qualities" according to some experts. All of which adds to the self-confidence of this player of astonishing proportions: The young man is 2.21 metres tall and weighs around 110 kilos, but he also has very long arms, giving him an impressive wingspan of 2.43 metres! He was made for this game!
San Antonio Spurs: a legendary team
Victor Wembanyama joins the Spurs family, a team that makes no secret of its love of talent from abroad, and more particularly from France! This legendary team has been a basketball institution for decades. Not only do they boast 5 league titles to their name, but also 8 consecutive 50+ win seasons (between 1999 and 2017) and 22 consecutive playoff appearances (between 1997 and 2019). The team owes its reputation in no small part to its coach, Gregg Popovich. Who better than the 75-year-old to guide the young French prodigy through his first steps on the American game?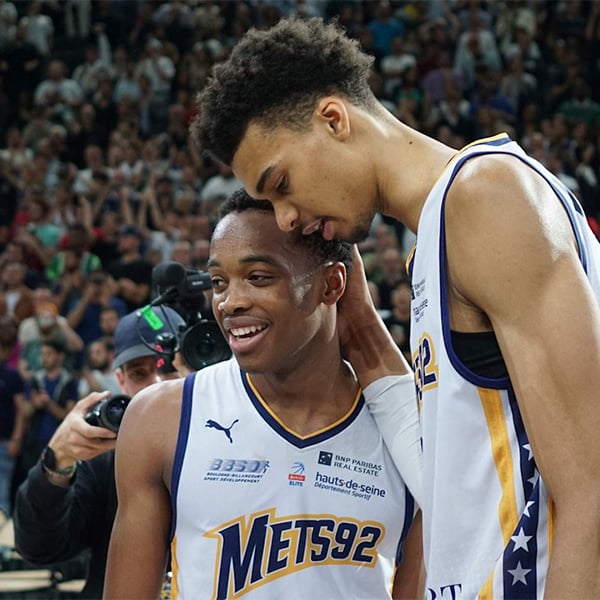 NBA: the French connection
Victor Wembanyama wasn't the only Frenchman to shine that night. Indeed, his former teammate at Metropolitans 92, Bilal Coulibaly, was chosen as number 7! Unlike Wemby, no one had seen Bilal coming, and he surprised everyone by being selected in the Top 10! On Thursday, he became the second-highest-selected French talent in history, tied with Kylian Hayes, who was drafted in 2020 by the Detroit Pistons. A selection that made his former team-mate jump for joy, who couldn't contain his emotion when the news was announced. Initially retained by the Indiana Pacers, Bilal Coulibaly was immediately transferred to Washington, in exchange for American Jarace Walker, selected in 8th position. It's a real coup for this young basketball hopeful, who intends to make his name shine in the league. "I want to be a good player on both sides of the floor. I want to stay in DC and give my all for the fans and the city. How do I see myself evolving? Physically, I need to put on weight. I'm going to grow, I know that. I'm working hard to be as complete a player as possible," said the youngster in perfect English. Very confident in his talent, his new club sees the winger as an essential part of their game. It has to be said that the Saint-Cloud native is a true Swiss Army knife, able to cover several positions. A quality much sought-after in the NBA and by his club, who will undoubtedly do everything in their power to deploy his potential.
Among the evening's other surprises, two other Frenchmen were selected in the second round of the 2023 draft. Rayan Rupert joins Portland (43rd pick) and Sidy Cissoko (44th pick) joins Victor Wembanyama at the Spurs. The year 2023 is therefore a very good one for our French players, who we can't wait to see again on NBA floors.
Draft 2023: streetwear outfits on the agenda
The draft is also an opportunity for players to show off their best clothes. Highly anticipated, the players' outfits also set the trends for the coming season. Young recruits don't hesitate to flaunt their best clothes. stylish clothes and original looks that have fashionistas on the prowl for new inspiration. Victor Wembanyama obviously played along, wearing a fir-green double-breasted suit. "Green is my favorite color. And it's a bit exoplanet, alien, space. The shape of the suit is original too!" emphasized the prodigy to whom everything seems to succeed!
Our new streetwear products :