Soso Maness collaborates with Project X Paris
Soso Maness : the child of the northern districts
If we had to retain only one name of the year 2020 in French rap, Soso Maness would obviously be at the top of the list. Because he put happiness in our ears, during the first confinement, with his hit "So Maness". But also thanks to his verse "Zumba cafew" in the 100% Marseilles project "13'Organisé". Some tchatche, a lot of humor and good mood, and an incredible style which can pass from the simple black t-shirt to the shirts with flowers of mafioso: portrait of the enfant terrible of the Northern Districts.
Soso Maness, from the field to the golden disc
Few people know it, but Soso Maness is in the rap, in a discontinuous way, since his 10 years or almost (he is 33 today). Even as a youngster, the Marseilles native was rocked and fed with the rap of the big brothers of IAM or the Fonky Family, and managed to get a featuring with the group Intouchables (members of the legendary Mafia K1 Fry) on their first studio album, " Les Points sur les I ", released in 2000. An early spotlight that should have put Soso on the rails of the rap game, but the youngster had other desires, other projects...
Today, the rapper still gets emotional when he talks about some of his loved ones who died by gunshot or in prison for 30 years. He eventually repented after his second sentence in 2016/2017. Better yet, he took his life completely back, using his time in prison to learn and grow, and come out stronger. Since then he has been working, successfully, to break into the rap game. Beyond that, he has become a real media character, endearing, that people love to have on stage: at Clique, Vice, Konbini or various Youtubers, the rapper is a sensation wherever he goes. Straightforwardness, sense of formula, incredible experience, but also a great musical and artistic sensitivity in general, that's all that makes us appreciate him. Obviously, it worked right away with Project X Paris, a brand that is looking for original profiles and strong personalities to present its clothes. It must be said that when it comes to style, here again, Soso is far from being at a loss: we remember her incredible outfit during the video "On The Corner", shot in her neighborhood, in Fond Vert.
Soso Maness has real ideas for everything that concerns the visual. In his clip "TP", he had made a whole clip "in the first person", like in a video game. The cover of his album "Mistral", released in June 2020, is also hyper stylish. Flowered shirt, white pants, sunglasses with a pair of sneakers, and this orange flag that flies in the back, all that is very successful. As for the music, the most important, he has learned to diversify his palette, with a little singing, a little autotune, a lot of rap, and sometimes very surprising atmospheres, as in "So Maness" or recently in "Bande Organisée", and its few lines that made Twitter explode.
Soso Maness X Project X Paris, more than an evidence
For his personality and his sense of style, Project X Paris has chosen Soso Maness to be one of the representatives of its streetwear collection. A choice which owes nothing to chance: it is part of the will of the brand to accompany talents from Paris to Marseilles. Especially since there are already 3streetwear stores in Marseille(Grand littoral shopping center, the terraces of the port and since a few months in the famous Avenue Saint-Antoine), and that we feel the attraction of the people of Marseille for the fashion and particularly for the streetwear. We can almost say that they have put back in fashion the tracksuits, but also the disguises of glamorous bandits of Miami. We feel that they are very influenced by the dress codes of the gangster movies of the 80s, with all the extravagant side that can emerge from it. For Soso, it is only a question of exploring one of his passions, the underwear, and we are delighted to be able to give him this opportunity. Especially since he knows a bit about textiles, having launched his own line of merch' in 2020, the "Franc-Manesserie".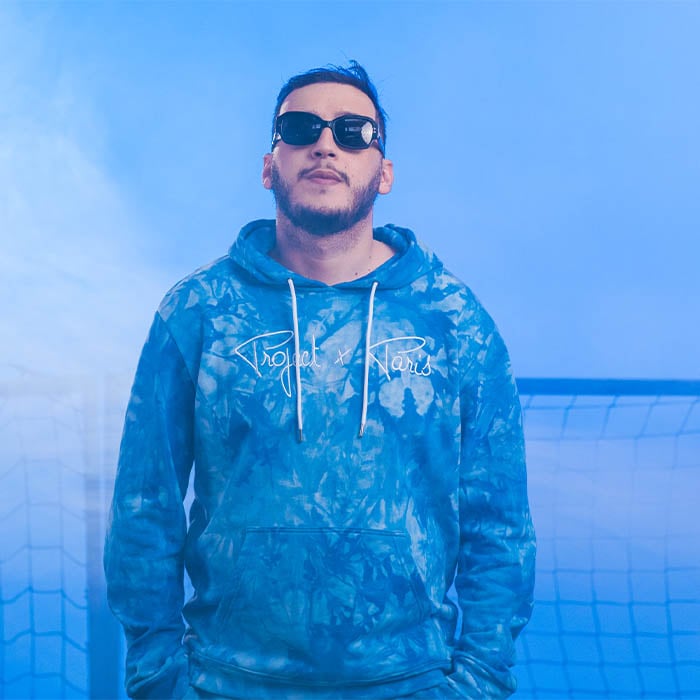 It is thus in the good mood that we found the Marseillais in the Quartier Général in the XIth in Paris, a place well known of all those who seek to reserve rooms for a big hype event. A rather vast place with a lot of space, but this space was entirely occupied by Soso Maness, his charisma and his humor. Charming, the rapper knows how to be, especially on some TV sets or when it comes to putting on a brand new red hoodie from Project X Paris. He is not afraid to surprise, even if it means bringing out the denim jacket to match asweat Project X. Because it is necessary to know it, in addition to the rap, Soso cultivates a love for the rock' roll, but also for the French music, in particular Renaud, big ambassador of the jacket in jeans in France.
But even with the most daring pieces, like the tracksuit with lots of PXP logos, he looks good. It must be said that with his frank smile and sunglasses, it's hard not to be photogenic. The blue tie-and-dye sweatshirt with white shades is perhaps the one that suits him best, since it is in the colors of the Olympique de Marseille, his club of heart obviously. Even the jackets, which are models not always obvious to assume according to the size, fit him well. Bold, smiling, available and never afraid to take risks, we can say that Soso Maness has done well for this new collection Project X Paris.
Project X Paris is the desire to carry the streetwear movement since 2015 with increasingly stylish collaborations.
A French brand of hype clothingavailable in more than 30 stores, at more than 1500 retailers worldwide and on projectxparis.com 24/7
To discover all the information on all our collab in preview:
#STAYCONNECTED