What would French rap be today without all the contributions of the 93 scene, especially the one in Sevran? We don't have the answer, but it would be a lot less cool. DA Uzi is one of those who have given French rap a taste of authenticity, a taste of the street, in short, a taste of 93. And he's obviously as comfortable on the mic as he is in front of our lenses, for this new collaboration !
DA Uzi, the street itself
When Kaaris revolutionised French rap in 2013 with the release of his album "Or Noir", he also brought some light to his town, Sevran. A city that has long been disparaged by the media, in the heart of a department that is itself the most singled out. A lot of things have been said about the town, but the most important thing is that it was a huge reservoir of raw talent that just needed a little spotlight to explode. No one was ready for what was to come and Sevran turned out to be a kind of French Atlanta: the capital of trap music, where all the trends of this movement were represented, with artists who very quickly became successful such as 13 Block, Kalash Criminel, Maes and DA Uzi. A child of Sevran since he was 15, he started rapping at an extremely young age, almost as soon as he arrived in the city. If he revealed himself a little later than the other rappers of his city, it's due to a rather eventful career, because it must be said that DA Uzi has known the street, the real one, the one of Sevran where everything can go very fast. But since his comeback in 2017, he has been unstoppable and for a good reason: he has energy and experience to spare, much more than some of his colleagues in the rap game.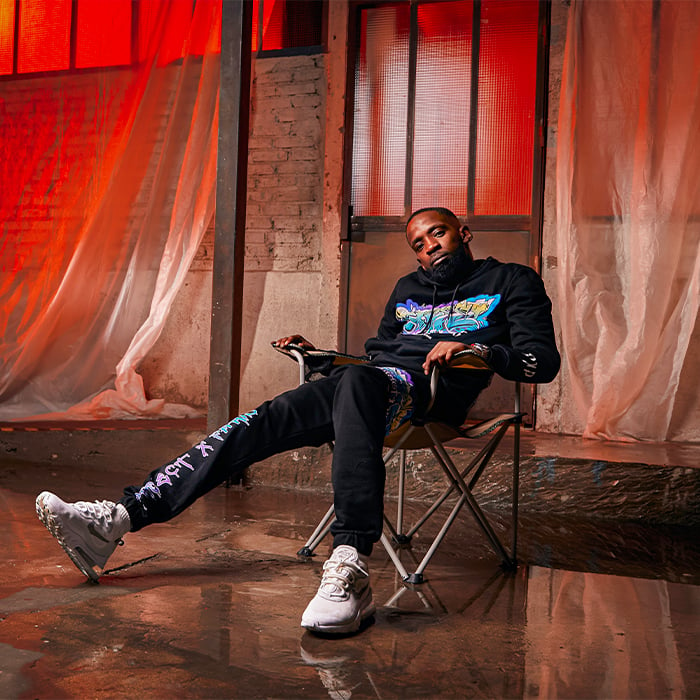 This energy exploded in the eyes of the public during her series of incredible freestyles, published on Youtube at the time, "La D en Personne". A series of hyper street freestyles, with quite raw clips and poignant lyrics. DA Uzi has a lot to say, and he says a lot in these early freestyles. Introspection, street life, ambition, all with a raw attitude that is necessarily touching, he quickly caught the eye of the public. With the success of his freestyles (over 20 million views in total), he decided to push the concept to the limit and turn it into a project, which was well received. Just after, he delivered another incredible performance, in a freestyle on the show "Rentre Dans Le Cercle", hosted by Fianso. Once again, it was his energy and authenticity that allowed him to explode even more. Since then, he has entered a new stage in his career, being extremely productive, both solo and with features. He is one of those artists who love feats, especially with his brothers from Sevran, who are extremely numerous and talented, which gives him the opportunity to make a lot of good songs.
The rapper from the 93 region released 4 other albums after "La D en Personne" and each time, he continued to touch a little more people. Today, he is a face that counts in French rap, which allowed him to invite Gazo, Ninho, Lacrim or Naps on his latest album, "Le Chemin des Braves". DA Uzi has a huge list of feats to his credit, proof that he is validated by his colleagues and that's normal, he can be very funny, very sympathetic. He is authentic, perhaps even to the point of excess in certain tracks. He delivers everything in his music, you can even feel that some lyrics were hard to write, he never hides. In interviews, he remains very natural, he never talks down, but is also extremely benevolent and lucid about the ordeals he has been through. Music was clearly an outlet for him at the beginning, but today we can see that he has broadened his influences, started to give a little in other styles, he is succeeding in being a complete artist, while always keeping the same energy and spontaneity, which are his strength.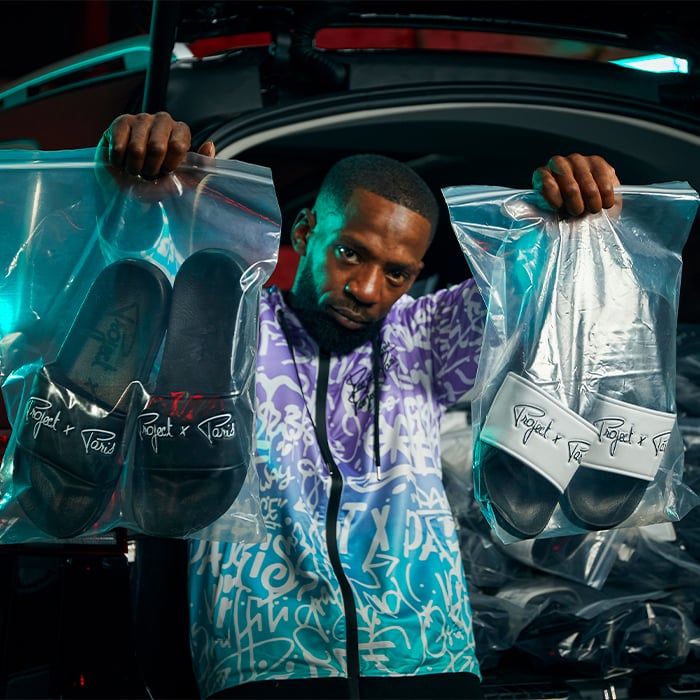 DA Uzi and PXP : 100% street
It is in this very street energy that we went to draw for our shooting with DA Uzi. A very successful shoot, with several atmospheres that correspond well to the rapper's universe. The first part of the shoot took place in a hangar, in the company of a high-end German vehicle. With the help of tarpaulins and light shows, we managed to create a very successful underground atmosphere. In the trunk, a whole load of PXP taps! Tap shoes that have become essential pieces of streetwear (thanks to rappers and NBA players) and that seem to make the Sevran rapper happy. In any case, he shows a small smile when he poses in front of the trunk. On his shoulders, an outfit from the Graffiti capsule, one of our most successful recent releases. A pair of Graffiti jogging bottoms, with a gradient colour that goes from purple to green, with the Graffiti hoodie, also in a gradient of the same shades. A very streetwise outfit, but at the same time very warm, which is rather in a summer mood. We're really happy with the result at Project X, because we know that DA Uzi really appreciates the tracksuit + jacket + tracksuit bottoms set, which we've seen in several of his videos.
Same setting, but a slightly different mood with this time something a little darker, but a pretty important piece for us. We're known for being good with velvet, so here's an example, with this black outfit from the Waffle capsule. The black embossed velvet "jogpants" for the bottom, the embossed velvet hoodie for the top and that's it. Add to that the little detail that kills, the PXP bag carried on the shoulder, for a streetwear outfit that is that of the perfect street adventurer. So it's only natural that it fits DA Uzi so well! The advantage of this outfit is its apparent simplicity at first glance, and as soon as you get closer, you see more and more little details that enrich it all. The rapper and I then stuck to these black shades, but we decided to liven things up a bit by giving him the "Underground" cap. The artist wears it perfectly: an oversized hoodie with the street art print on the chest, with the jogging bottoms which also have the same street art print, for a very successful "man's outfit" effect. With this, a pair of white Nike shoes, it gives us an outfit with a really effective look.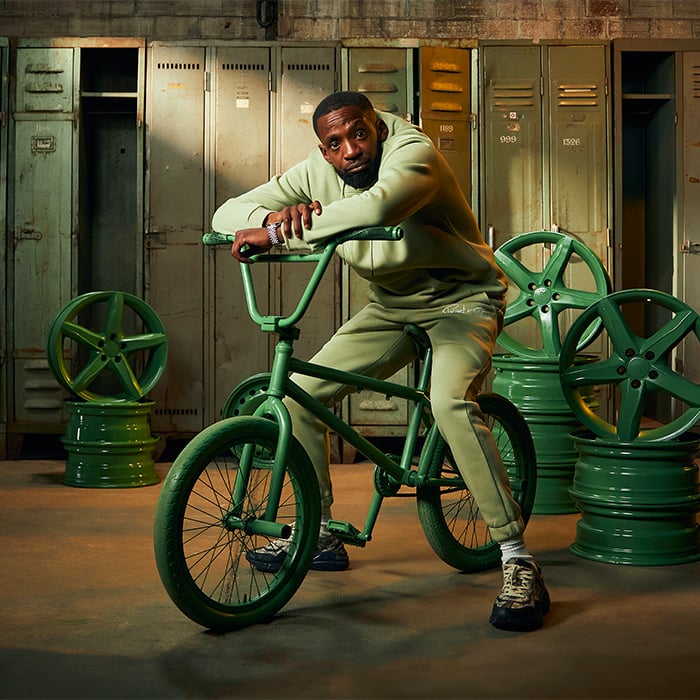 Finally, we gave DA Uzi what is perhaps our greatest classic, our Signature outfit. The signature collection is as you can see very clean, very minimalist, trying in the design to get closer to the luxury models, while keeping a street identity that is very dear to us. For the rapper, we immediately opted for a signature set, with the unisex hoodie coupled with the signature jogging bottoms with embroidery for the logo. All in one colour, a rather soft green that fits very well with the setting in which the photos are taken. DA Uzi, proudly installed on his BMX repainted in the same colours, seems to love his outfit, to which he added a small black bag, with a Project X Paris bob for a very street look. In short, a memorable shoot with DA Uzi who was impeccable, authentic and true to himself. Exactly like in his music !
Project X Paris is the challenge of two young French designers to combine urban living with current trends. It's a tasty mix between fashion, culture and minimalism. Combining lifestyle and streetwear, the young brand born in 2015 has conquered the biggest cities such as Dubai, Berlin, London or Los Angeles before settling in Paris.