RK collaborates with Project X Paris
Now that rap has become the dominant music in France, we see talented artists emerging younger and younger. And among them, RK has clearly burst the screen. 21 years old, 5 albums, gold and platinum awards, and a solid technical background that allows him to make the difference. In freestyle, on the radio or in shooting for Project X Paris, the rapper sets the bar very high!
RK, from child prodigy to accomplished artist
If we had to list the favorite passions of the urban youth in France, soccer and rap would surely come in the first positions. We can't count the number of references made by rappers to soccer players in their songs. We also notice the fact that more and more soccer players try to get closer to the rap world, by appearing in clips, showcases or concerts. The main reason for this rapprochement is simple: soccer and rap have flooded the suburbs, which are the main source of talent in both music and sports. For a youth from the suburbs who are often victims of prejudice, rap and soccer represented two obvious ways out to rise socially and be recognized. RK, as a worthy son of the city of Meaux in 77, practiced both thoroughly in his youth. To the point of having thought of becoming a pro, before being caught up by injuries and street life. Finally he turned to rap, but always keeping an eye on the world of football. And we can say that he did well: his first track, published in 2017, is called "1st half #RiyadMahrez", named after the twirling Algerian winger who plays at Manchester City. A real hit for the young rapper, who practiced rap since he was young to do like the big kids in his neighborhood.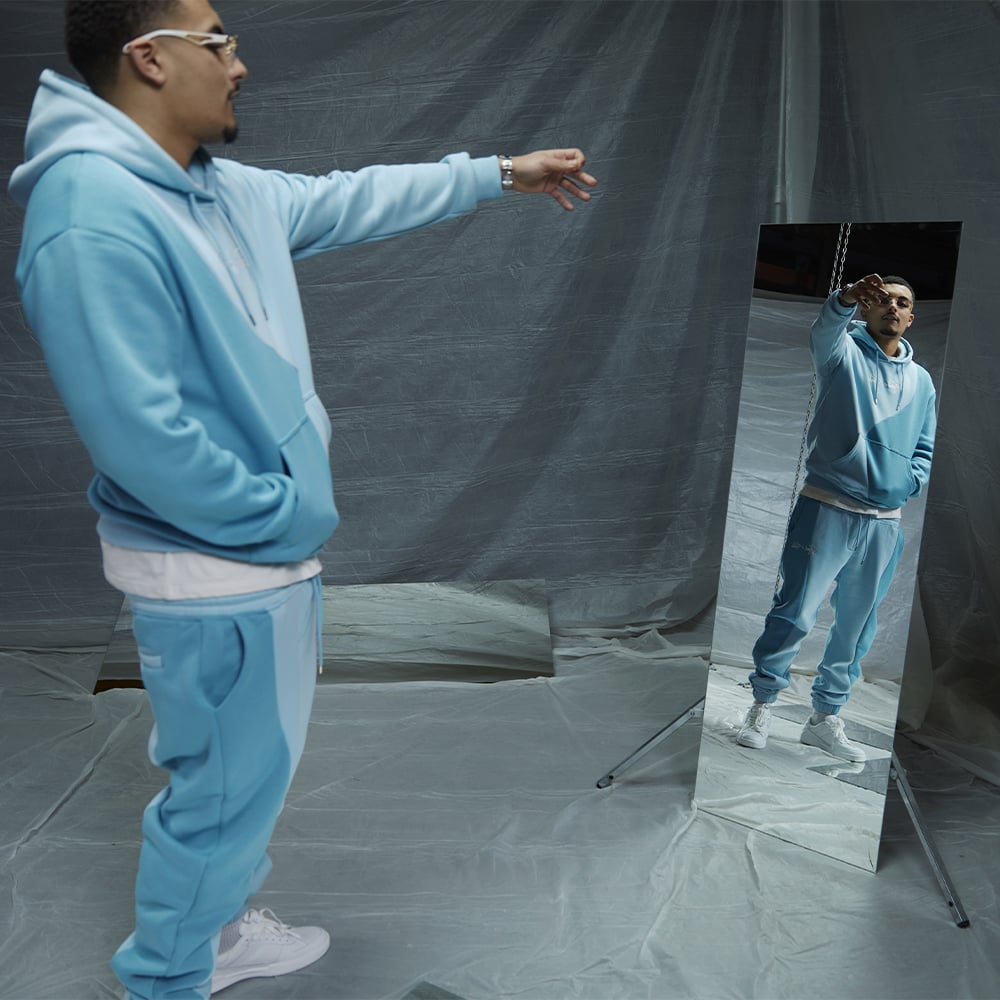 A hit that made him be spotted by Sofiane, a kind of Arsène Wenger of rap in the 2000s who put the light on so many talents. It must be said that RK and Fianso had everything to get along, starting with a real love of kicking very fast, very aggressive, not hesitating to shout sometimes, as in the era of good bangers trap. After that, everything follows very quickly: a series of freestyles named after the buildings of his neighborhood in Meaux, a great land of rap since the 90's. Then a first project, "Insolent", which became a platinum record in a few months. Very quickly, we notice that RK began to operate a change in his music, by putting more melodies with his voice, more musicality in the instrus, even if the kickage remains present on many tracks. A winning recipe with which he regularly reaches 20 million views on his videos. At this time, we are in 2018, the rapper is only 16 years old and his success is already monstrous. We could have thought that the success had gone to his head, and that he would have rested on his laurels but it is not: the second project arrives a few months later, in April 2019, and it is called "Rêve de Gosse". With big titles like "Redemption" or "C'est mon sang" in feat with Fianso, the prodigy will still hit hard and make big scores. Then comes the time for the third project, "Neverland", which will be released in the summer of 2020.
Here again, RK takes a step forward, especially in terms of communication. More present, he is more at ease to explain his artistic choices, his ways and his approach seems more and more clear and thoughtful. We feel that the young prodigy has grown up quickly, and he has even worked much more on his aesthetics. While his clips were quite close to those of PNL at the beginning, he has moved away from them, even if he kept the taste of the shots a little "soaring", and to put in image the coal in a metaphorical way. A project without fault on the artistic level, quickly followed (too much perhaps), by "100 Rancunes" in 2021. A good project, which unfortunately did not have the expected success, but the rapper is not the kind to resign himself. He's been in it since he was a kid and he bet everything on rap, so he questioned himself, perfected his mind to offer us his brand new project, "Mentality". Even more seasoned, more composed, he is back in force, especially thanks to the success of "Lola", the strong single of the album. With always this alliance of the melody and the kicking, and effective topics which turn around the street, but also of the love, subject sometimes complicated. But where he bluffed us the most, it is in the clip of the acoustic version of " Lola ", with a sober outfit, but incredibly effective.
RK x PXP, the sportiest collab
Small light grey Stone Island sweater, light pants and a small pair of slightly smoked glasses, a faultless. So we decided to take a closer look at the RK phenomenon, and see what we could offer him that would be in line with this idea of stylish sobriety, while remaining in the spirit of sport, to keep his competitive and footballing side. Starting of course with the great classic, the capsuleSignature. A sober and classy outfit, with a white Signature unisex hoodie, and the signature white jogging bottoms. The whole worn with a pair of PXP sneakers, because it lent itself particularly well to this classic and effective streetwear outfit. In decor, you will notice the atmosphere "cardboard workshop" with graffiti "PXP / RK" everywhere. In the same set, we gave him a Tech outfit that fits his love for soccer very well, with a rather slim-fitting jogging bottom, and the zip-up hooded jacket, all with two shades of light grey. We can see some stylized logos on the torso as well as on the hood, which can refer to a technical garment or a set of a soccer club.
New atmosphere then: you know us, at Project X Paris we like to change everything, to avoid staying in a comfort zone. This time, we switch to a "crime scene" type of decor with tarps and some mirrors for stylish optical effects. For the outfit, we stay on something sober, with a small mood at once stylish, soft and comfortable with the new capsule Wavy Wear. Atwo-tone jogging bottomswave style, blue color, and atwo-tone hoodiewave style of the same color, and it's done. The whole worn over a white T-shirt slightly oversized, for a double effect "style / relaxation" that we appreciate in the rappers. Here again, we remain in the sobriety of the design and colors, a niche that always suits RK. Our stylists were right!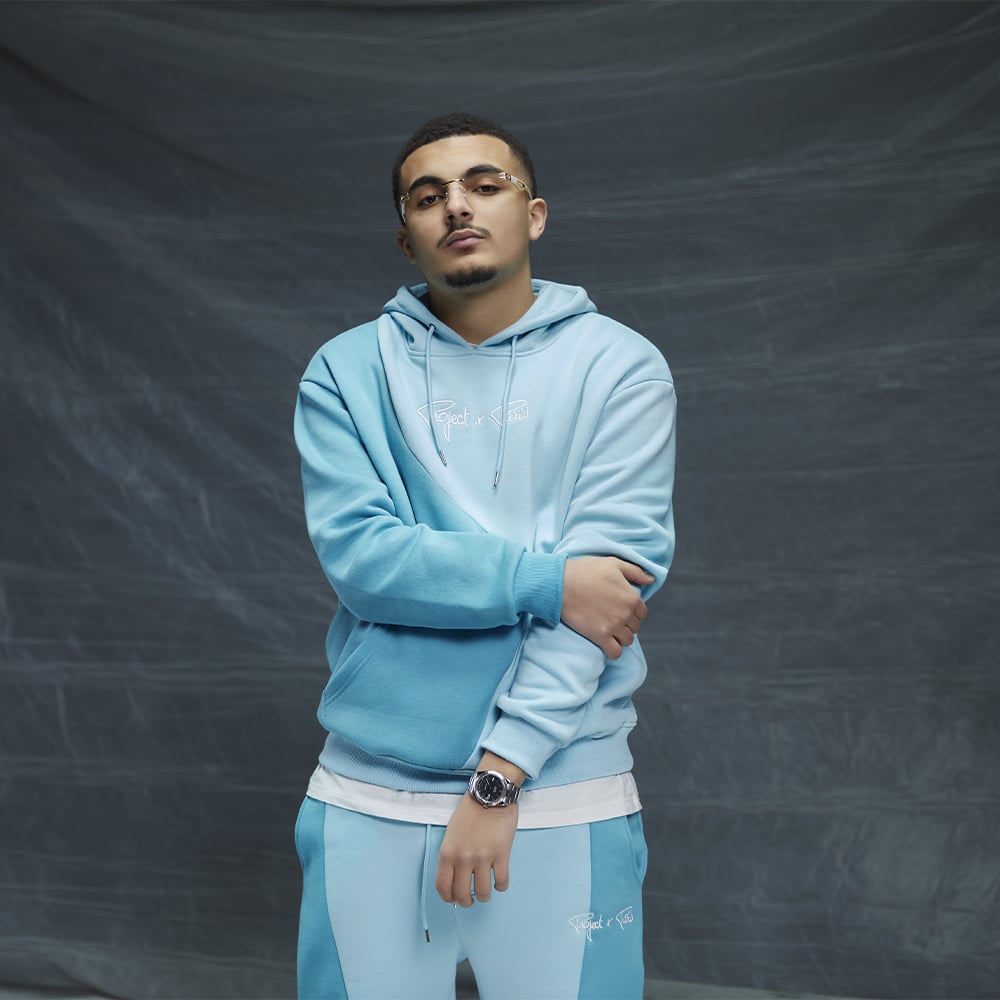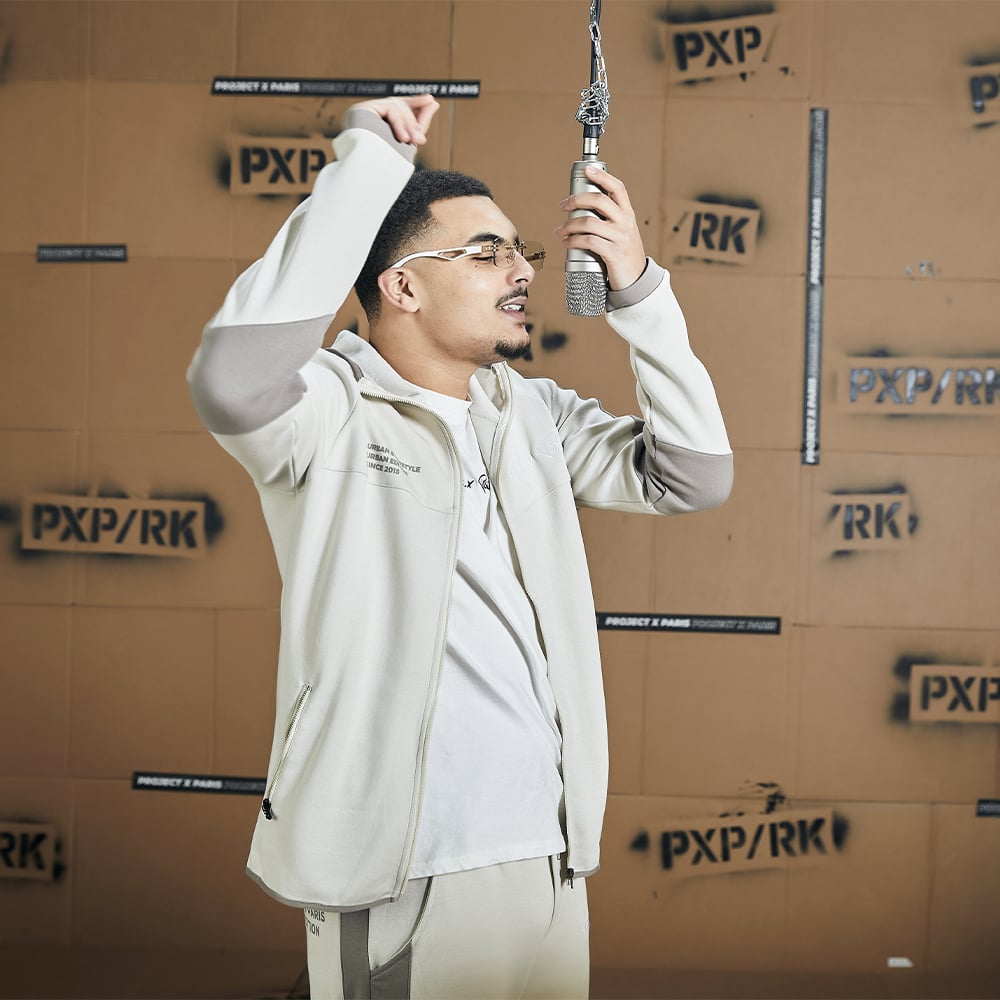 Finally, we move on to the last outfit, the one that represents perhaps the most "street" trend at the moment: the outfit from the Urban Explorer capsule. A capsule with quite technical pieces, to combine comfort, resistance to cold and style to walk the streets of your cities. Or even basements with red brick walls, as is the case for RK during the shooting. Here again, he lends himself to the game, posing like a pro. On the program for the outfit, a jacket with padded yoke in gray, and a jogging bottom with padded yoke, also in gray. The whole with a small pair of white sneakers, and we get another example of sober, stylish and very trendy outfit at the moment, with the omnipresence of techwear. You will have understood, the shooting was placed under the sign of the sobriety and the effectiveness, not necessarily what we are known at Project X Paris. But the challenge was brilliantly met, thanks to a hot RK who even kicked us a few lines for the teasers on social networks. We thank him for all that, and hope to be able to do it again soon!
The brand Project X Paris was founded in 2015 by two French designers who wanted to combine urban lifestyle with current high fashion trends. Combining lifestyle and streetwear, the young brand was able to conquer the biggest cities like London or Dubai and today continues to expand throughout France, with more and more boutiques.
To discover all the information on all our collab in preview :
#STAYCONNECTED