NAPS collaborates with PROJECT X PARIS
Naps, the South in person
Marseille is more than ever in the forefront of the urban scene, and Naps is there for something. Between his highly anticipated albums and his remarkable participation in "13'Organisé", the rapper is not only the face of his city, but also a fine connoisseur of fashion and streetwear. Project X Paris proposed him to be the face of thenew collection 2021.
Naps, a Marseilles emblem
In a few years, Marseille has become a capital city in French rap. After IAM, the Fonky Family or the Psy4 de la Rime, the new generation was a bit late, but now it is here, well established. This new generation is mainly carried by Jul, obviously, and Naps, or Soso Maness. In the worthy filiation of the music of Kalif Hardcore, Jul and Naps have rushed to give their rap this special sound, so sunny, with a mixture of very raw lyrics and autotune. The whole, sprinkled with authentic Marseilles slang, with a nice dose of confidence and class sometimes. Versatile, he uses many beatmakers well known in the industry to set the mood for his albums: CDR, Zeg P, Napalm Beats, and he has already collaborated with all the greatest rap artists of his generation. Notably, in bulk,Ninho(with whom he shares the same affection for the brand Project X Paris), SCH, Vald, Soolking, Maes, Heuss l'Enfoiré and many others.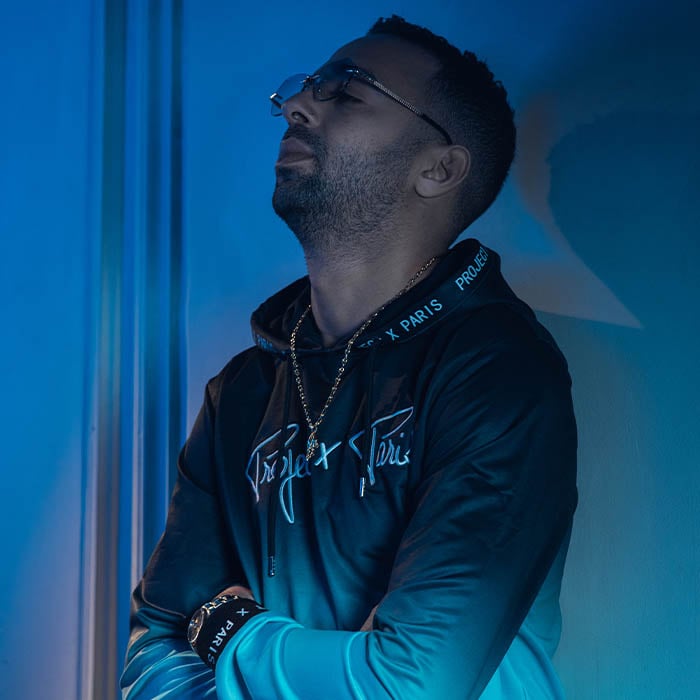 Validated by his colleagues, by the street and also supported by his entire city, Naps has been raining certifications with his albums released since 2015. If today everyone sees what we're talking about when we say "Marseilles rap" or "southern rap", it's thanks to the music, but also to the attitude. Thanks to Naps, in particular, Marseille has become the place of all the sartorial experimentations these last 5-6 years. With some rather daring outfits: we remember the epidemic of soccer t-shirts from Thailand, with fluorescent colors, and also tracksuit sets with the effigy of the big soccer clubs. Marseille has been a real inspiration for today's streetwear, and Naps is one of the architects. So Project X Paris logically got closer to the one who has become one of the fashion icons of today's urban culture.
But Naps is not only streetwear. His aesthetic is also inspired by the Miami atmosphere, with blinged-out, open shirts and a little chain on the chest a la Tony. Overall, we feel that he was very inspired by the gangster movies of the 80s and 90s, in which everyone had an incredible look, either hyper exuberant or very classy and sober with Italian suits. Since the time of "Pochon Bleu", a real commercial hit and summer 2017 hit, to his participation in "13'Organisé" or his new album "Les Mains faites pour l'Or", the rapper from Marseille has been able to impose his musical and graphic touch to the delight of his many fans. A sunny, joyful, catchy touch with a lot of good humor, just like the city of Marseille, an important crossroads of the current urban culture. So important that Project X Paris is available in several stores around the city of Marseille, notably on the famous Avenue Saint-Antoine, or in the city center, Rue Saint-Ferréol.
Naps x Project X Paris, a logical collaboration
Naps is at ease with all styles, whether it's wearing sweatpants with a sweatshirt or a hoodie, or much more classic and sober pieces. With a pronounced penchant for very daring clothes, it is thus naturally that he associated with Project X Paris for thenew collections of 2021. He tried himself in several styles, so we could notice this little chameleon side and at ease in all the ambiences of the artist.
He obviously loved itthe wholepastel with thejogging bottomsand the hoodie without zip, but he also loved the white outfit, with asweatshirtsimple and a huge butterfly pattern, on the top and on the bottom of tracksuit. Parts yet very sober, which contrast a little with the usual panoply of the Marseillais, but which fit him perfectly. Not the last one to put himself in scene, he lent himself without any worries to the game of the shooting, taking the pose in situations sometimes rather funny: lying down and surrounded by green and purple bills, or posed on his bike, always in the good mood. All this took place in a beautiful house not far from the Louvre, a perfect place to set up a contrast between luxury and the very extravagant side of streetwear (as well as that of the artist).
But where it fits best is when Project X Paris makes him wear the most extravagant outfits. Naps is someone who is quite restless, with a lot of humor and who is quickly noticed, whether in life or in a featuring track. When he put on the blue or green tie and dye outfits, bingo, it was a perfect match. Not everyone is ready to assume this kind of pieces but he wears them without batting an eyelid, very comfortable, same for the unisex set with the many PXP logo, yet not the most classic clothing that we propose. The rapper is not afraid of the eyes and assumes everything, as for the music. He is not afraid to make attempts, to dare, and it is very often successful, that's why he represents very well the bold and innovative side of the brand Project X Paris.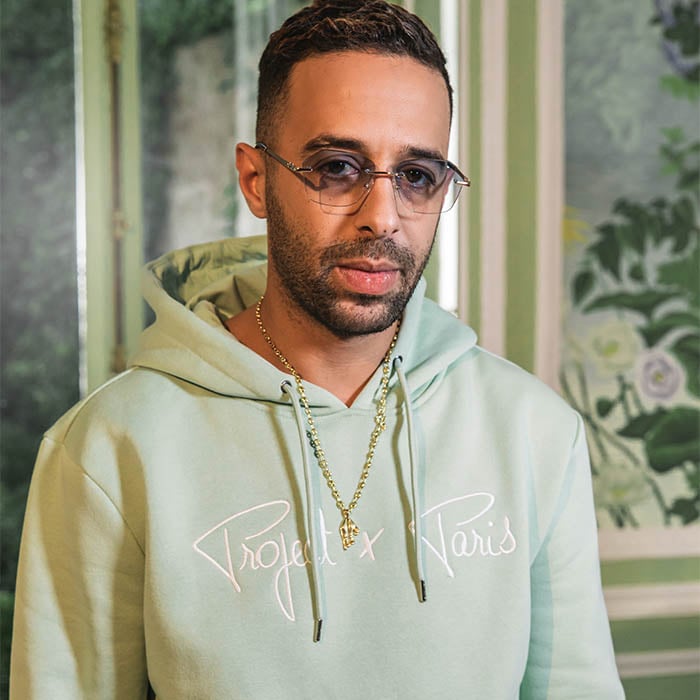 Project X Paris is the bet of two young French designers to associate the art of urban living with current trends. It is a tasty mix between fashion, culture and minimalism. Combining lifestyle and streetwear, the young brand born in 2015 has conquered the biggest cities such as Dubai, Berlin, London or even Los Angeles before settling in Paris.
To discover all the information on all our collab in preview:
#STAYCONNECTED