It's a fact, the American streetwear is a trend that has imposed itself around the world over the years. And France has not escaped the wave! Oversized tee-shirts, sneakers, hoodies have taken place in all locker rooms. Lately, the American college style is making a comeback and with it the famous teddy Varsity! If you had to invest in only one jacket this year it would be this one. New colors, new design, no doubt that the Varsity Jacket signed PXP will upgrade the feminine and masculine looks. No mistake possible, we buy without hesitation! 
The Varsity capsule FW22 by Project X Paris in pictures :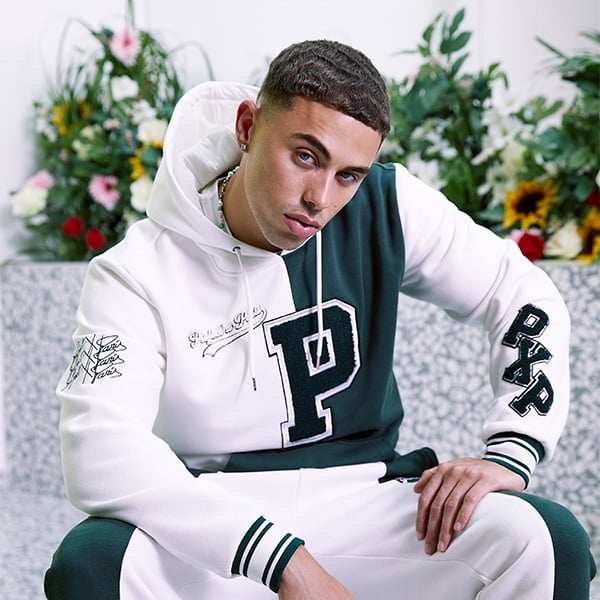 If you've been following us for a while, you know that at Project X Paris, number 1 of street wear in France, we're often a step ahead! Always in line with our urban clothing DNA, we dare to propose new trends that are often a hit, like the Varsity capsule that we introduced for the first time for the spring summer 2022 season. The bombers, very colorful, displaying a large signature of the brand on the chest and updating the looks of the 90's were a real success. Peach, green, yellow, beige, black... you've been snatching them up! It's because the college style of clothing, also worn by the Squad capsule, is back in force ! So we decided to go back for another fall/winter season by imagining a brand new design for the American varsity jacket. What a great look !
The Varsity capsule SS22 by Project X Paris in pictures :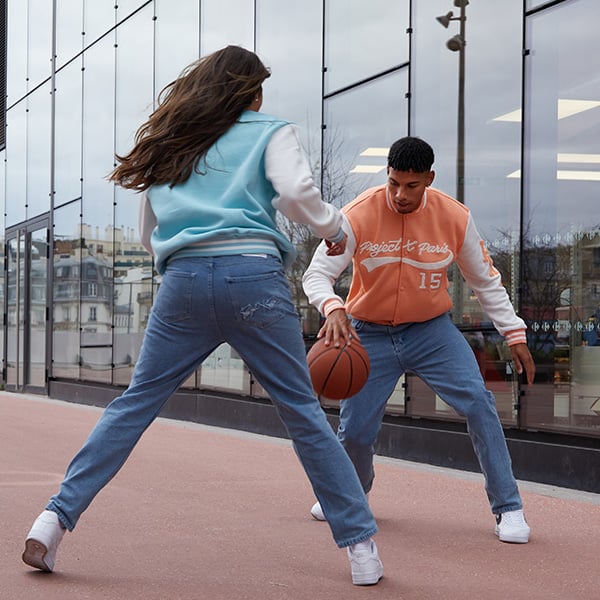 For this winter season, on the Jacket side, we opted for a more refined style: we gave it a slightly quilted effect and we put a big P on the chest to keep a pronounced streetwear side. These large letters are reminiscent of those of the great American universities of the Ivy League which proudly display the first letter of the baseball or soccer team of their school as the "Y" for Yale, "H" for Harvard or "P" of Princeton. A strong sign of belonging that has largely contributed to the popularization of these jackets. For this new collection, we also played on the "traditional" two-tone side by honoring more neutral and sober colors such as navy blue, camel or pine green. Tones of the season that will match with your favorite outfits. Personally, we love it, and you ?  
How to wear your varsity Jacket
Sportswear but not too much, the Project X Paris Varsity Jacket is a perfect balance of genres and can be worn with casual looks as well as with more classic styles. Essential jacket of the half-season, it ensures a perfect transition! For a simple and effective style, we wear it with a plain tee-shirt, jeans and sneakers. On the other hand, if you are in the mood for a total sportswear look, wear it over a tracksuit from our Varsity capsule! What's in this new collection? Two-tone T-shirts, hoodies and jogging bottoms that feature the strong markers of this American college fashion like the large iron-on "P". Also inspired by the "Ivy League" fashion, the Squad capsule will also give you a very "American" look like the ivory or black jogging suit with thin vertical stripes reminiscent of baseball players' outfits, but also the bomber with the same graphics.    
The sharpest fashionistas have understood the Varsity Jacket is the ultimate fashion statement of the season! No-gender, it is well past the time when the Teddy was reserved for men. Today, women also want to have theirs and wear it as well on a pair of loose-fitting jeans as over a sweater dress or so chic carrot pants! For an ultra-feminine look, we associate it with a denim skirt and small thin sneakers or flat moccasins to break the sportswear side. The teddy can be chic, it can easily replace a blazer and be worn with boots or pumps. For a total college look, we associate his jacket with a tee-shirt, a tracksuit, sneakers and without forgetting to screw on the head a baseball cap style! Once is not customary, Project X Paris has declined its line for men and women. For many years, women have invested the urban culture and want to have a line that is entirely dedicated to them. This is what we did by offering them clothes 100% similar to those of the men's line ! This non-genre capsule brings men and women to meet and play with a trend that is all the rage on the networks: "couple goals" where couples coordinate and even dress exactly the same ! 
From "preppy" look to streetwear
If this American university style is now widely popularized, it was once entirely reserved for a certain social elite. Only the golden and preppy youth, who attended the greatest universities, could afford the luxury of hanging one in their locker room. Seen for the first time on the Harvard campus, it was given to the best students and athletes with a brilliant career ahead of them. A strong distinctive sign, the one who had the honor to wear it could wear it not as a piece of clothing but rather as an emblem of his or her success! After Harvard, other major universities adopted this tradition. Democratized by the films of the 1960s such as "Grease", "West Side Story" or "American Graffiti", the teddy style was then opposed to the black jackets worn by rebels and young people from the working classes. It was only in the 1980s that the Varsity Jacket became totally popular, thanks to personalities such as Michael Jackson, who appeared at the very beginning of his video Thriller with a red and camel Teddy. An earthquake of genres that helped to overturn the established order! Since this revolution signed MJ, many rappers like Run DMC or NWA have followed him to appropriate the Teddy and offer it to the urban culture ! Since then, everyone wants his varsity Jacket, even the biggest fashion houses that have largely integrated it into their designs ! 
Want to be part of the PXP team? Then put on your teddy !