In summer, even if comfort is the key word, it is unthinkable to be "no look". To stay stylish despite the hot weather that encourages to go out with as little material as possible on the back, we must respect some key trends of this season 2022. 
Because summers can be scorching, we prefer light outfits, oversized shapes and colors that do not absorb too much heat. In order to follow the trend we match shorts and t-shirts. Because, yes the total look is ultra-trendy! If the exercise is not always easy to match the pieces for a summer outfit, we trust Project X Paris, number 1 actor of the streetwear scene in France, to guide us in our choices. On the website or in store, it will be possible to find an infinity of colors but also materials as for example the All Over set in knitwear which is declined in jade, black, ivory and pink. Fresh and bright, why not opt for an all-white set, like the ultra-fluid and light shorts and T-shirt from the Identity collection? One thing's for sure, you won't want to part with them !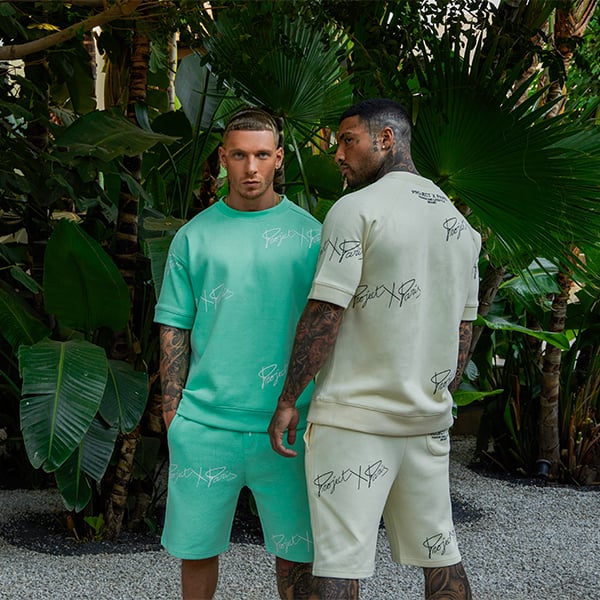 After these two years of pandemic, we want to be cheerful and this is displayed on our clothes. So, we dare to combine colors! For those who do not want to adopt a total look, we take advantage of this period to play with colors. For a street and original outfit, match plain shorts with a patterned t-shirt. Among the timeless, we look at the side of the Underground and Graffiti collections which offers colors well asserted in a street art universe as a yellow, red and even in gradient version of colors. Because the gradient is THE big trend that will make its effect! We find it declined in particular in the Rainbow capsule collection but also in the Tropical collection which seduced all those who could not wait for their spring break. The prints in the form of palm trees or large leaves are an invitation to relax while being ultra-looked. Collections widely validated by French rappers like Kodes, 1PLIKE140 and BOLEMVN.
Oversize, the good compromise
Isn't the oversized look our best ally for summer? In addition to being very comfortable, loose-fitting cuts let in the coolness. A must have! To avoid looking like a slacker, we adopt a classy and casual look with the CHILL VIBES and COMFORT WEAR capsules by combining shorts and a polo shirt or even with an oversized t-shirt. To look good all summer long, the possibilities are endless! 
For the more classic ones, we worked on cuts combining color and sobriety while not losing sight of its identity! So we look at the side of the capsules ALL OVER and IDENTITY which displays discreet logos and timeless colors. 
Wet hair, light wind, humidity... At PXP we have also thought about your cool evenings spent by the sea or in the countryside. Stylish and comfortable, don't forget to pack a jogging suit that you will find in several colors and collections. The signature tracksuit is a must-have for any streetwear enthusiast and has become a PXP staple. More stylish, the tracksuit with the embroidered university logo and the kangaroo pocket on the hoodie, takes us back to the 1970s. The strong point of these jogging suits? They are available for men and women. Indeed, since its inception PXP has honored unisex collections. For the summer we choose pastel colors such as beige, pink or peach that can be matched with his / her partner for a matching set highly Instagramable ! 
Men are not the only ones to have largely integrated the street culture. At Project X Paris, women can find sexy, ultra feminine and stylish pieces. 
Gone are the days when they used to steal from their men's wardrobes to cobble together a rough look. They can now assert their preference by choosing among ever more creative models. They will appreciate the wash & wear trend that combines pastel and flashy colors but also models that are entirely dedicated to them as dresses, halter tops or crop-tops !
Because urban culture is not limited to sportsmen and rappers, Project X Paris was able to seduce many more people. As usual, One Piece, the famous Japanese manga, a worldwide phenomenon, is back to spice up the summer! New colors, new cuts, new sets of shorts and t-shirts. Impossible to miss! This manga imagined by Eiichiro Oda, has sold more than 470 million copies in 43 different countries! A colossal figure that explains why no art form has been spared by the phenomenon! As a major actor of the streetwear culture, PXP couldn't miss it ! 
To complete your outfits, we adopt accessories that will upgrade even the most classic outfits. Shoulder bags for men and women, ultra-practical chest bags, caps, bobs that come in 15 colors and finally, the final touch: the very trendy flip-flops available in black or white, to be worn with socks of course! 
For a casual and stylish summer, we redo our wardrobe in PXP!