PROJECT X PARIS - OUR STORES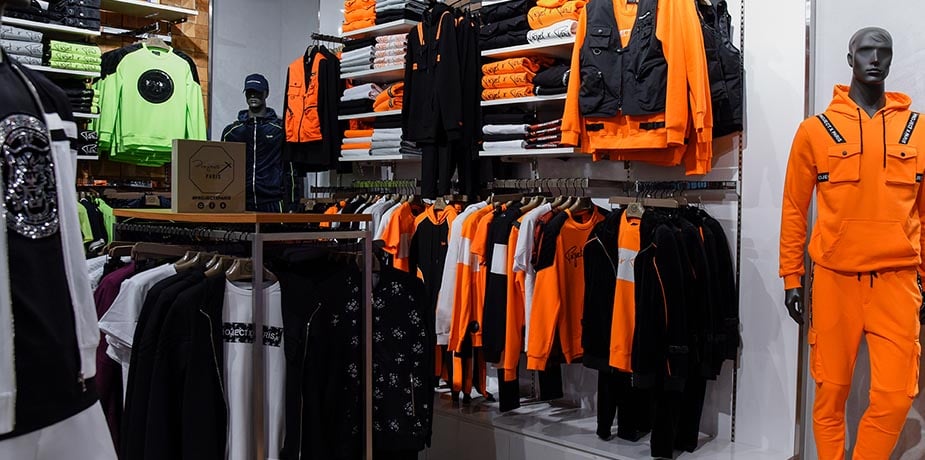 Discover all the Project X Paris products in our French and international stores. Check out the new season's collection for men and women. Pick and choose pieces from a variety of our casual, streetwear, sportswear or street chic lines.
The brand has cornered the market in streetwear and sportswear by offering the most hyped pieces out there right now. Shop at Project X Paris and find styles that are both on-trend and a good fit. Wide selection of Tee-shirts, sweats, jeans, joggings, coats, you will find everything you need !
Project X Paris Aéroville
30 Rue des Buissons, 95700 Roissy-en-France, France
Phone number : +33 1 74 25 08 56
Open from Monday to Sunday from 10am to 8pm
Project X Paris Carré Sénart
Allée du préambule, 77127 Lieusaint, France
Phone number : +33 1 64 05 45 31
Open from Monday to Saturday from 10am to 8:30pm & Sunday from 11am to 7pm
Project X Paris Rivoli
53 Rue de Rivoli, 75001, Paris, France
Phone number : +33 9 86 10 19 49
Open from Monday to Saturday from 10am to 8pm & Sunday from 11am to 7pm
Project X Paris - O'parinor
Le Haut de Galy, 93600, Aulnay-sous-Bois
Phone number : +33 1 49 47 91 35
Open from Monday to Saturday from 10am to 8pm and Sunday from 11am to 7pm
Project X Paris - Grand Littoral
15 Avenue de saint antoine, 13015 Marseille
Phone number : +33 4 91 65 52 94
Open from Monday to Saturday from 9:30am to 8pm
Project X Paris Centre commercial Qwartz
4 Boulevard Gallieni, 92390 Villeneuve-la-Garenne
Phone number : +33 1 47 90 16 74
Open from Monday to Saturday from 10am to 8:30pm 
Project X Paris Centre commercial Rosny 2
2 Avenue du Général de Gaulle, 93110 Rosny-sous-Bois
Phone number : +33 148544595
Open on Monday and Sunday from 10am to 8pm &  Tuesday to Saturday from 10am to 9pm  
Project X Paris Centre commercial Evry 2
2 Boulevard de l'Europe, 91000 Évry
Phone number : +33 169137561
Open from Monday to Saturday from 10am to 8pm & Friday from 10am to 9pm 
Project X Paris Centre commercial Belle épine
Avenue du Luxembourg, 94320 Thiais
Phone number : +33 146879751
Open on Monday and Saturday from 10am to 8pm, From Tuesday to Friday from 10am to 8:30pm & Sunday from 10am to 7pm 
Project X Paris Centre commercial Créteil Soleil
Avenue de la France libre, 94000 Créteil
Phone number : +33 143990926
Open from Monday to Saturday from 10am to 8:30pm
Project X Paris Centre commercial Marques Avenues Corbeil-Essonnes
2 Rue Jean Cocteau, 91100 Corbeil-Essonnes
Phone number : +33 160889541
Open from Monday to Friday from 10am to 7pm & Saturday from 10am to 8pm
Project X Paris Centre commercial Les Terrasses du port
9 Quai du Lazaret, 13002 Marseille
Phone number : +33 491452893
Open from Monday to Sunday from 10am to 8pm
Project X Paris - DUBAÏ
Qatar Mall Street 373 Ar-Rayyan, Qatar
6000 Ar-Rayyan