One Piece is the most read and sold manga in the world with almost 500 million copies sold, thanks to its success the manga has had many derivative products, an animated version, figurines and many other formats. Clothes are obviously part of these derivatives and today, in collaboration with the Toei Animation, work of the great mangaka Echiro Oda, we offer you the new collection One Piece - Project X Paris. Find in our collection, sets, sweatshirts, hoodies, one piece t-shirts and many other products. 
Project X spirit in One Piece
Streetwear has the exceptional quality of being able to collaborate with an immense diversity of environments. Manga is no exception. What better way for streetwear to be well represented in the manga world than to work with the most popular of them? The ambition of Project X through this collaboration is to show that streetwear fashion can adapt to all these environments with style. We have for that, in our creations of pieces taken back codes associated with the manga and its country of origin. Some of our shirts have Japanese writings, we also took the famous manga logo that you can find embroidered on one of the sleeves. Finally, we have chosen to use the most iconic characters of the manga. So you can have on your one piece tee shirt Monkey D. Luffy or Roronoa Zoro, both with an iconic quote from one of the manga chapters. We guarantee that with our new collection of clothing you will have no trouble wearing a One Piece outfit with Luffy.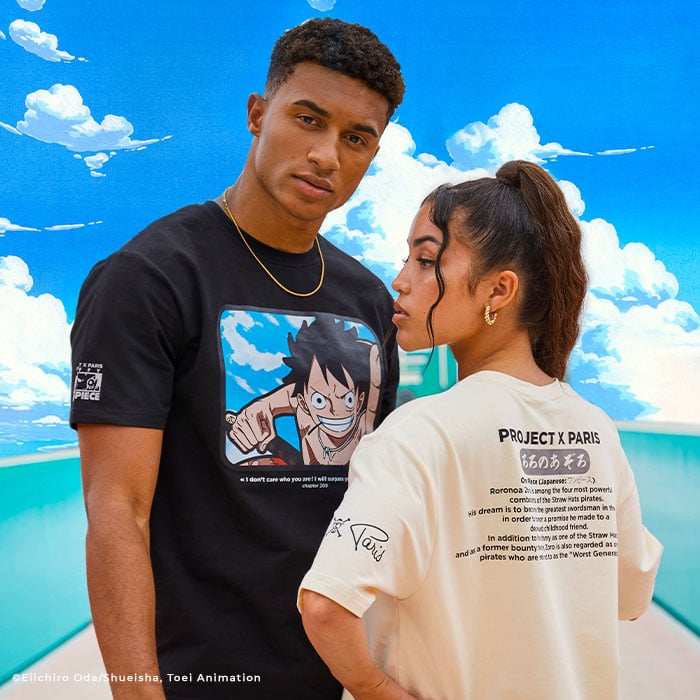 The choice of our clothes
We carefully selected the pieces that would be created for our collaboration. We limited ourselves to the most trendy and wearable pieces so that you can match the pieces of our collection with your outfits as easily as possible. First of all, we decided to make a one piece t shirt, a t shirt is very easy to match with your wardrobe, you can for example very easily highlight the character of your t shirt in front by putting a jacket that you will leave open. So that you can also go out without needing to think and that you are guaranteed that your outfit is successful, we have also released our tracksuits available in several colors that you will just have to accompany with a pair of white sneakers to ensure the best effect.