The cargo pant, an iconic bottom from the 1930s worn by British soldiers. A pair of trousers loved for their functionality as they allowed for storage space and easy access to equipment. In the 1990s, cargo trousers became a fashion statement as they were pushed to the forefront by urban hip-hop artists. Over time, cargo trousers have evolved and adapted to different fashions. Today we can find cargo shorts, cargo trousers stuck to the body or even cargo trousers with more or less pockets depending on the model.
Summary
What are cargo trousers?
Historical point on the cargo trousers
Men or women cargo, why are they back in fashion ?
With which piece(s) should you match your cargo trousers ?
Which colour for your cargo trousers ?
The morphology in the choice 
The importance of pockets for cargo trousers
How to choose a man or woman's cargo pant with Project X Paris?
Project X Paris' advice on how to match your cargo trousers ?
What are the advantages of Project X Paris ?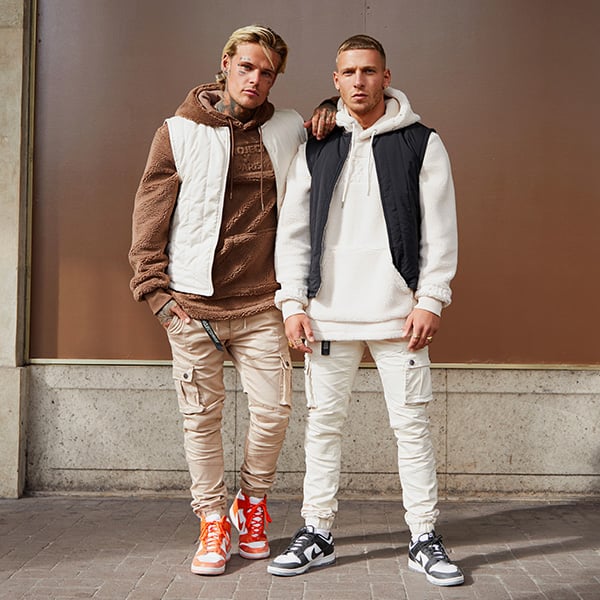 What are cargo trousers ?
Like many of our wardrobe pieces, the cargo pant is a military inspired garment. They were initially characterised by their loose, comfortable fit, although this has since evolved. Very robust and durable, they are generally made up of one or more pockets, some of which are sometimes positioned quite low on the legs. 
Military clothing, the women's or men's cargo stands out for its comfort and its great freedom of movement. It is therefore a piece that is equally well suited to winter and summer. Although it is mainly an urban piece, it can also be used in the open air, thanks to its many pockets. In view of the growing popularity of cargo trousers, derivative pieces have been created, such as the cargo shorts. 
Historical point on the cargo trousers
Like the bomber for example, the cargo trousers are a piece of military inspiration. It is on the eve of the second world war, in 1938, that these trousers are democratized. It is first of all in the British army that we find them. These trousers answered several problems of mobility, comfort and flexibility in term of movement. The pockets were especially intended for the parachutists, and allowed them to reach certain objects quickly. 
As is often the case with streetwear, it was in the 1990s that men's and women's cargo trousers got a second wind. The Hip Hop culture had largely appropriated these trousers. This one will be, from then on, an essential of the man & woman wardrobe. 
Men or women cargo, why are they back in fashion ?
At a time when jeans and trousers are not necessarily comfortable, women's or men's cargo trousers are a real eye-catcher. This garment allows a great freedom of movement, especially at the level of the knee and the joints more globally. 
The versatility of look that cargo offers is also an undeniable quality of this garment. Even if it is rather streetwear, it is a garment that remains globally rather neutral. It can therefore be worn with a multitude of styles: rock, rap, chic or even casual.
This high degree of custom makes it a timeless piece. Better still, for many people, cargo is becoming more and more of a basic. 
Summing up cargo in 3 words? Versatile, practical and comfortable. 
With which piece(s) should you match your cargo trousers ?
As seen above, cargo trousers are a garment with a very high combination potential. As with many trousers, you should first consider whether you want a slim or a wider cargo pant. This is an important point, because with its two side pockets, the extra bulk can be unsightly if the cut is poorly chosen. Modern cargo trousers can be combined with a suit jacket for example. They can also be paired with a leather jacket for a more rock look. Streetwear also goes well with a plain t-shirt, a hoodie or even a casual shirt. 
Finally, the workwear style is particularly well suited to cargo trousers. 
Which colour for your cargo trousers ?
Unsurprisingly, the first cargo trousers were quite dull in terms of colour. In order to promote camouflage, they were mostly green/khaki. Nowadays, the range has expanded considerably and a wide choice of colours is available: 
- Beige for a casual or even chic look
- Black
- Jean style
Of course there are many other colours, we advise you to first think about your style and with what type of pieces you want to match your trousers. The choice of the colour is a complete matter of taste, the false steps are rare. You are therefore free to combine your cargo in terms of colours as you wish. 
Cargo trousers can be worn by everyone, but they will fit certain body types better. Cargo trousers will increase the volume of your thighs. This effect is created by the pockets.  We will now talk about different body shapes that can be perfectly combined with cargo trousers. V-shaped people will love cargo trousers, which will help to balance the figure. Cargo trousers can also be combined with a loose top such as a sweater for example. Whatever your body type, this mix will allow you to have a perfect mix especially if you have cargo trousers that have a complementary color with your top.
The men's cargo trousers are a type of trousers that were used during the war. These clothes were used by the military parachutists. The trousers with these large pockets allowed them to store a large number of objects such as ammunition, grenades, provisions... Therefore, the men's cargo trousers are composed of large pockets on the lateral sides. If you want to have a military style, take a pair of cargo trousers with pockets close to the body, where you can put your stuff. If you want a more urban style, we recommend discreet side pockets with very little space to keep the trousers close to the body.
Women's cargo pants and men's cargo pants are not very difficult to choose. For women of small size, it is advised to take a straight cut cargo trousers with few pockets. This will allow her to have a cargo pant that will give a nice silhouette. For the cargo man no need to ask many questions because the cargo trousers are associated with a large number of tops and shoes. Men's cargo pants can be easily mixed with any tee-shirt, sweater, hoodie, shoes and jacket. Cargo pants can be worn close to the body or not, and it is this aspect that allows them to be so easily paired with your other favorite clothes.
The cargo pant is a military pant that can be combined with a wide range of outfits. We recommend white trainers, which can be matched with any color of cargo trousers. We also recommend that you wear high-top shoes that can also be matched with your cargo trousers. As for the top of your outfit, we advise women to wear their cargo trousers with a plain t-shirt and a jacket. For men, we recommend wearing your cargo trousers with a white hoodie or t-shirt and a jacket to bring out the color of your cargo trousers.
Project X Paris offers a wide range of cargo trousers for men and women. Treat yourself and earn points, when you buy a product of our brand, one euro equals 1 point. As soon as you reach two hundred points, you will earn a 20% discount. Project X Paris also knows how to make you happy on your birthday and offers you 30 euros of vouchers for this unforgettable day. Take advantage of Project X Paris' customer service, which allows you to return the product if you don't like it or if it doesn't fit. This means you have no excuses. Take advantage of our great offers to get the cargo trousers you need to have the style you deserve.