In a set or just in bottoms, the jogging suit is the hype and trendy clothing of the 2000s
The tracksuits, iconic objects of our wardrobe that has existed for many years and has dressed several decades are regularly modernized to bring style and elegance to the person who wears it. Project X Paris, specialist in streetwear, offers a wide range of jogging suits to provide comfort, style and well-being. Through collections that are renewed very regularly.
Summary
Why are jogging pants in fashion?
How does the jogging suit differ from other pants? 
What to wear with jogging pants for men or women ? 
How to choose the size of his jogging ?
What about sport ?
How to choose the color of his jogging woman or man ?
With which shoes should I combine my jogging ? 
In a set or in stockings ? 
How to find the right man or woman jogging suit on Project X Paris ? 
What are the advantages of Project X Paris ?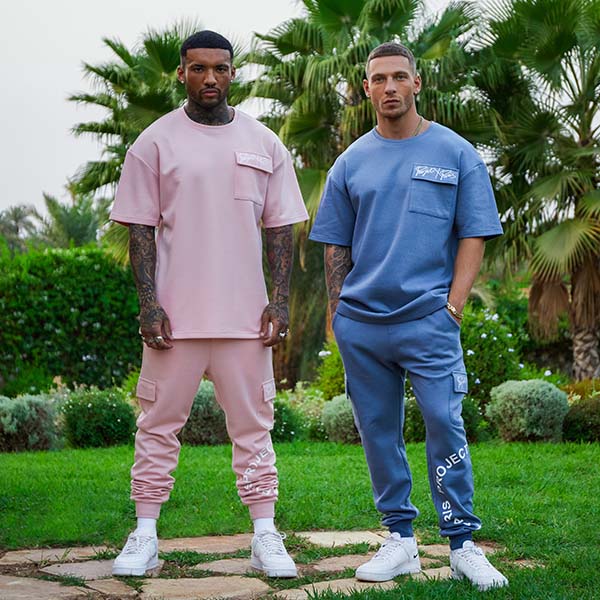 Why is jogging fashionable ?
Let's face it, jogging has long had a bad press with the general public. Very stamped street culture, jogging was associated with negligence. Since the 2000's, the situation has completely reversed and jogging has been completely reversed. If we strongly advise you not to come to a wedding in jogging, it is largely more accepted in everyday life. 
It's a piece often praised for its high degree of comfort and freedom of movement. This is not surprising, given that it is originally a sportswear.
In fact, many people take off their jeans and put on a men's or women's tracksuit when they get home. Like sneakers, for example, jogging suits are the perfect symbol of the expansion of the sports wardrobe to a more casual use in everyday life. 
How does the jogging suit differ from other pants?
As mentioned above, the high degree of comfort provided by jogging suits is particularly appreciated. In terms of style, the trend has strongly evolved. The jogging has rather abandoned the street and sportswear image and is now more casual. 
It is therefore a rather versatile pant: it can be used in a sporting context of course, but also indoors (for increased comfort). Finally, it is more and more present in everyday life. 
The plain color of most jogging pants makes it, all in all, rather passe partout. Unlike some pants, it is a garment easy to match: with a short-sleeved t-shirt, a long-sleeved shirt, a sweater, a top, a sportswear...
What to wear with your men's or women's jogging suit?
This clothing being strongly democratized, the possibilities of marriages are much more vast than before. For a successful style, we advise you to differentiate between the two main families of jogging suits for women or men: tight-fitting jogging suits and wide-fitting jogging suits. 
The tight jogging is more casual, more pass everywhere and, since the 2010s, much more fashionable. Its wide counterpart is more difficult to match. It is mostly worn with a sport jacket, also loose, or a large sweater. It is quite possible to play the 100% streetwear card, by matching the jogging with a sports jacket, a cap and sneakers. 
How to choose the size of your jogging?
The notion of size has played a very important role in the democratization of jogging. Previously, it was worn wide. Nowadays, the fashion has rather changed of edge. The jogging worn nowadays is much closer to the body, see molding in some cases. This gives a look perhaps a little more aesthetic (depending on taste of course) and pass everywhere than the wide jogging, very popular in the 90s.
We can only advise you to choose the jogging according to your tastes. Comfort is and will remain the most important criterion in the choice of your jogging for woman or man. Ask yourself also if you choose the jogging for everyday life and/or for the practice of a sport. This criterion can be important in terms of choice. 
Let's not forget that jogging suits are above all sportswear. Of course, it is recommended especially for the practice of sport in winter. The shorts are more appropriate in summer. When practicing sports, the material of the tracksuit for men or women is important. Synthetic materials evacuate perspiration perfectly, natural materials can be a little more pleasant in terms of contact with the skin.
In general, we advise you to choose a jogging suit in which you feel comfortable. None of your movements should be hindered. The choice of women's or men's jogging suits may differ depending on the sport you practice. 
How to choose the color of its jogging woman or man ?
The color of sports jogging suits is usually in neutral tones rather classic. The most popular colors for men's jogging and women's jogging suits are black and navy blue because they are so-called all-purpose colors. There are also some men's jogging suits and women's jogging suits with more colors and in different styles than the sports jogging suits. For example, Project X Paris jogging suits come in many colors. If you want a streetwear set we recommend you jogging sets and hoodies in bright colors like green, orange, pink ... To choose the color of your jogging, we advise you to associate your out fit. You can associate your jogging with a jacket having a color associated with your bottom or complementary colors. We recommend that you match the colors of your shoes and your tracksuit.
Which shoes to wear with a jogging suit?
With a women's or men's tracksuit, we recommend you wear sneakers. You can choose between low top shoes or high top shoes. If you have a black or navy blue jogging suit, we recommend nice white shoes or black and white shoes. These colors will highlight your shoes and also show off your solid color jogging suit. Plain white or black shoes will go with any outfit as they are a great shoe to wear with everything. If you have a colorful single-toned jogging suit, this time we recommend that you have colors that match your outfit. If your sweat suit is orange, we recommend you have low top or high top shoes in the same color. If your women's jogging suit or men's jogging suit is of several colors, we recommend you to have shoes with several colors to match your jogging suit.
Men's or women's sweatpants sets are easy to dress up or down. You already have your out fit for the day ready, you just have to match your shoes with your outfit. Afterwards, it is always possible to wear your jogging only at the bottom because a nice black or blue jogging will be able to marry very well with a white or black top of our Project X paris collection. We offer a wide range of women's and men's t-shirts that go well with women's or men's tracksuit bottoms. You can then add to your outfit a nice jacket, or a bomber to have a comfortable outfit. Add to your outfit a pair of comfortable shoes that can match your jogging suit and jacket and you are ready to start your day. 
How to find the right jogging suit for you on Project X Paris ?
On Project X Paris, you will find a wide range of men's tracksuits and women's jogging suits. All our products exist in a large number of different colors. You are bound to find the color that suits you in our catalog. As we care about details we offer you a size guide - Project X Paris. Thanks to this size guide you will be able to find different information such as the correspondence of a size M to a size FR, as well as the dimensions of your bust size in order to have the first time the jogging suit that fits you. All our collections are constantly renewed to find the out fit that matches your taste and your desires.
What are the customer benefits of Project X Paris ?
Project X Paris, your streetwear brand, offers you a collection of tracksuits for men and women. Earn loyalty points when you buy products of our brand one euro and that is worth one point. When you have two hundred points, you get a 20% discount. In addition, we have a special birthday offer with a voucher worth thirty euros for your birthday. With all these offers you have no excuse to get the jogging suit of your dreams. Moreover, you can order your product on our store and if they are not the right size you can send them back to us to get another size, or to choose another product.