Always in a concern to accelerate our conquest of France, Project X Paris continues to expand and open stores all over France. This time it's towards Amiens, a shop that opened in April. To give us strength in 2022, it was Yanns who came to set the mood. And it was hot!
We are starting the last quarter of the year and it will soon be time to take stock of it, particularly at a comparative level. The year was once again dense in Rap FR, but if we are interested in the songs that have ambiancé us, we are forced to think about Yanns. Why? Because it is probably the author of one of the most listened songs of the year, quite simply. Released on December 10, 2021, the video of the hit «Clic Clic pan pan» already has more than 80 million views in just 9 months. Almost 10 million views per month on average, enough to make jealous some big heavyweights of the industry who remain very far from this kind of figures. The title had all the ingredients to make a real hit: a simple and extremely heady chorus, lyrics that speak of love and will therefore touch boys and girls, an instruction calibrated to dance, But we were far from imagining how the sound was going to be omnipresent in all the evenings, especially throughout the summer of 2022. 
Because Yanns has been working hard for a while now. The rapper from Eastern France had also joined the training center of AS Nancy Lorraine, one of the 3 big clubs in the area with Metz and Strasbourg. Injured in the cruciate ligaments, he launched into music and began publishing extracts on TikTok in 2020. In front of the craze, he releases his first song «Baby» and starts to explode his subscriber counter. A real phenomenon of social networks, he continues to impose himself as boss on TikTok and will release his first album «Bambino» in February 2021. Followed very quickly by a second project, "Broken Heart", in September 2021. Two long projects of 16 tracks, with quite few featurings, the artist has resources. We quickly feel his influences rap/ urban pop, especially Jul, which is heard a lot in the choices of instru at the beginning, as in «Mon chouchou», «En détresse» and many others. We also feel the influence of the J in the themes discussed, with many songs that talk about women, love, with a rather street language.
But Yanns gradually found its own niche with its own codes. Even more punchy choruses, even shorter and thus rhythmic, entering the head with incredible efficiency. This transformation was completed with the release of the megatube «Clic Clic pan pan pan», which everyone sang at least once a year. But without necessarily being a fan of the artist, you are necessarily contaminated by his good humor and simplicity, and driven by the very Latin rhythms of his music. All these qualities may be found in the origins of the singer, who is French of Portuguese origin and Spanish gypsy. In any case, he knows how to use them wisely and is not the last when it comes to giving a little love to his fans, with nice moments of sharing, like his birthday concert in Damelevières in front of 2,600 people, in his home region. A nice way to give back to the fans all the strength sent by an increasingly numerous audience.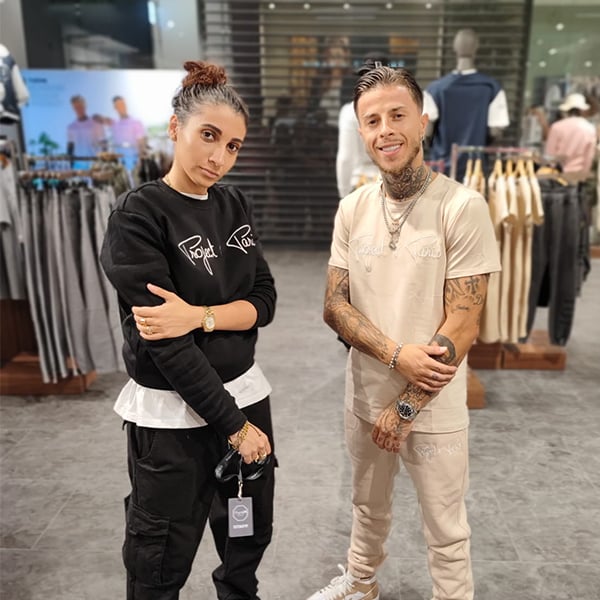 Yanns & Project X Paris, sharing operation
Sharing is what we are talking about today, since Yanns offered an incredible surprise to his fans in the Amiénoise region. A Project X Paris boutique was created at the Amiens Glisy shopping centre last April. And guess who decided to come and do a big signing session for his fans in front of the shop... Yanns himself! The artist, who never loses an opportunity to meet his audience en masse, almost provoked a small riot as he became popular. Everything happened in a calm and good mood, of course, but the crowd was simply impressive at the end of August. Lots of images and videos of the day are filmed on social networks. What is striking is the number of young people present, for whom the singer seems to be an idol. 
So Yanns did the job with ease, in front of a frenetic crowd for our greatest pleasure at PXP. You know us, we like to put a big atmosphere in our shops, or even in the whole mall if we are allowed to. As in Miramas with our Fashion Festival which attracts a little more people every time. This time, however, it took on a crazy scale thanks to the sympathy and popularity of Yanns, to whom we are obviously very grateful. Especially since the artist did the job to the end, sending us a maximum of strength. He posed for photos with the Project X team present in the shop, all while wearing a nice PXP outfit. In particular, a beige jogger stocking, one of our great classics, with a plain t-shirt of the same color, very effective. He even chose another: a two-tone denim trousers from the Patchwork capsule, with a wide textured shirt, velvet imitation, always in the same beige tone to go with the Jordan. 
An event that is of course part of our desire to highlight our Project X Paris boutiques that open all over the country. We are now proud to be able to welcome people in our own shop, in Miramas, Amiens, Marseille, Lille, Lyon but also in much smaller cities. We thank Yanns for putting a big spotlight on Picardy and we hope to be able to reproduce this kind of big events every time we open a new shop!