With a name like that, one is inevitably expected to be on the ball in the sometimes very virile world of French rap. But the young Uzi, musical revelation of the 2020/2021 season, has preferred to take it easy by entering the game with very musical, sung hits. Without ever moving away from the street that sticks to his shoes.
Uzi, the next street's generation 
Before the summer of 2020, Uzi was a relatively anonymous young rapper, even though he had already been performing for at least 4 or 5 years through various videos, clips or freestyles in particular. But since the release of the track "A la fête" he has become a star of the French rap game. With a score of 45 million views, reached quite quickly, it is now difficult to miss the new phenomenon from 77. 21 years old, from Noisiel, the rapper is a troublemaker in a rap scene that is sometimes too uniform and that sometimes struggles to follow through on its ideas, especially in the videos. 
The young Uzi, on the other hand, has no complexes and we feel that he has worked on his image in the same way as his album: with care. "Coeur Abîmé" was released on February 19, 2021, bringing with it the certainty that the rapper had all the cards in hand to become one of the greatest of his generation. 19 tracks, all solos, and a musical variety on the project that is quite impressive for a young artist of 21. Indeed, he knows how to manage as well on energetic bangers, as on dancing tracks, or on rather sad and melancholic tracks. This melancholic, but energetic and determined side never leaves him, it is perhaps his trademark.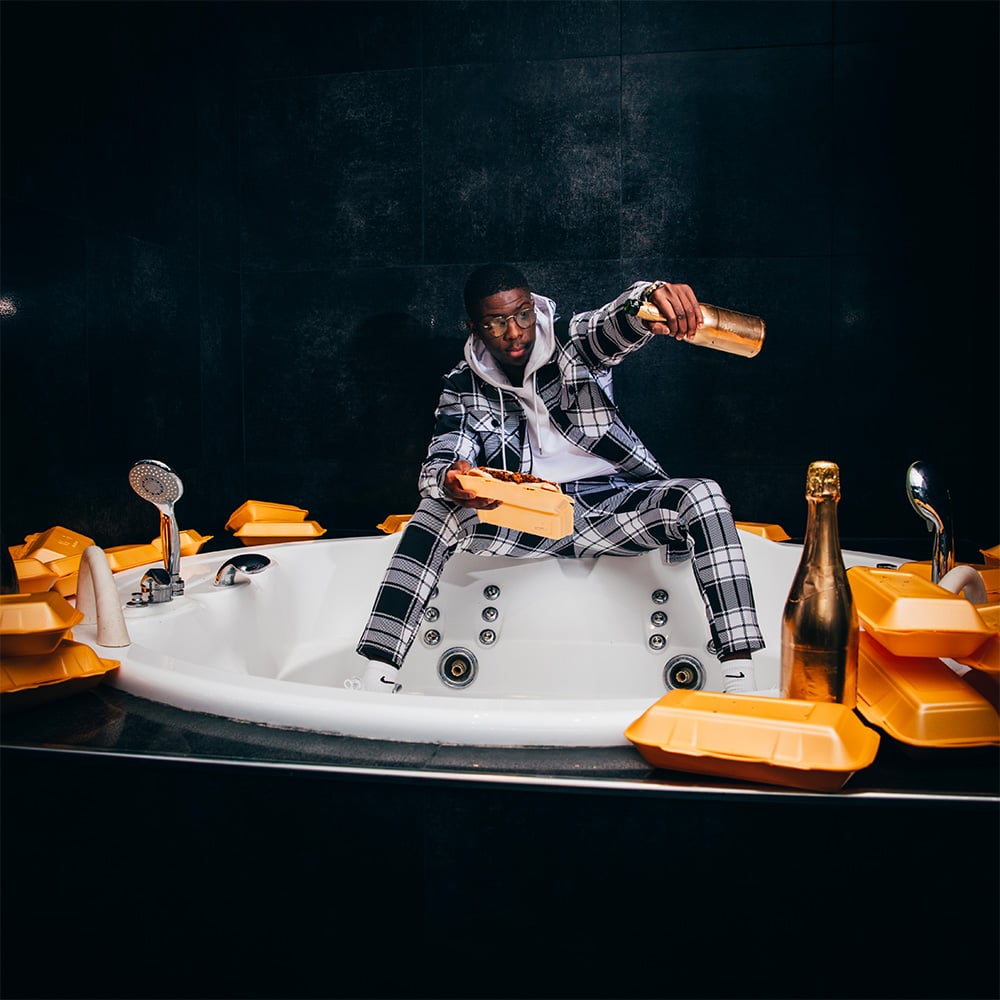 Uzi and Project X Paris take the screen
As you know, rap and image/style are now two unavoidable pillars of urban cultures. As far as image/style is concerned, Uzi is not to be outdone and we can even say that he is perfectly in the game. He made everyone sit up and take notice when he dressed all the extras in the video for "A La Fête" in Arsenal Gunners shirts. But that's nothing compared to what he has prepared for the next part. Shirts and polo shirts in 'A l'aise', or a thick down jacket in the video for 'Cœur Abîmé', streetwear has no secrets for him. It's no coincidence that he decided to collaborate with Project X Paris for their new collection: he loves underwear, especially when it's original.
Project X Paris has plenty of original, even unique designs. Like the checked overshirt, in black/grey or red/black. Two pieces that were great streetwear classics, especially in New York in the 90s, brought up to date by Uzi and PXP. The black and white hoodie + tie and dye tracksuit is also very effective on him and quite well worn, even though it is one of the brand's most innovative pieces. Of course, the piece that suits him best is probably one of the most "street" pieces in the PXP catalogue: the red "Project X Paris Crew" hoodie, with the logo embroidered on the chest in a fairly large size. A must-have that gives the impression that Uzi has always worn it since his birth, so natural does it look.
As you can see, Uzi is the rap of tomorrow. It is therefore with pride that we welcomed this partnership here at Project X Paris. Because he's an artist who seems to want to stick around for the long haul, the proof: since the release of his first record in February, he has appeared in many clipped featurings, notably with ISK, with always big stream scores. And that's a sure sign.