Few rappers will have so embodied a department, spreading its mentality throughout France. Rim'K is part of this small club, and the rap game taulier will have worn the colors of his 94 throughout his career. Of course, for Project X Paris, it was the perfect collab! A legendary shooting, to honor the ambassador of the Mafia K'1 Fry.
Rim'K, the union of the French Rap
In more than 35 years of history, French rap has seen many fabulous stories and incredible adventures grow, with great respectable careers. But few stories are as beautiful as that of Rimk. Born in the Paris region at the end of the 70s, he is today one of the most respected rappers of the game, with a long and successful career. First in a group, but also in solo. He will have crossed all eras, each time pulling his own advantage, and above all, remaining appreciated by almost everyone. The Uncle of Rap FR was a real hyphen in the game. A hyphen between the neighborhoods and the rest of France, to begin with. Because the "Mafia K'1 Fry" mentality, in which rappers with multiple origins were brought together, affected much more than the cities of France, but the whole country. This idea that together we go much further and can overcome everything has inspired thousands of young people.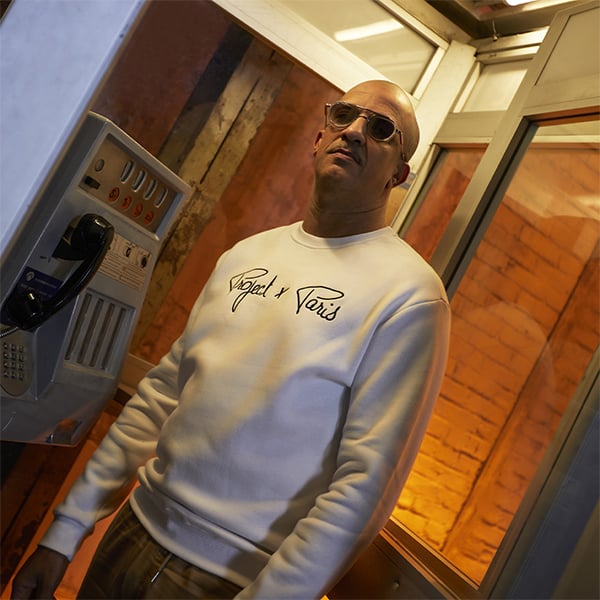 But also a link between France and "the village". Moreover, it is thanks to "Tonton du Bled", title present on the album of the 113 "Les Princes de la ville" (true classic of French rap, with the late DJ Mehdi at the production), that the rapper and his band became known throughout France. Initially reserved for rap fans, the phenomenon 113 forced itself in the eyes of the country, returning in Peugeot 504 on the stage of the Victoires de la musique to recover their trophy, in 2000. With this title, Rim'K cultivates an image of an ambitious young man, determined to succeed in the country that saw him born, but who is very proud of his dual culture and who proudly claims it, he who is both French and Kabyle, just like Zidane. Another point in common with the legend of football, Rimk is also a real crack, with his hard-hitting rap, both humorous and very street, and titles that leave their mark: "Au Summum", "Jackpotes 2000", but also others like "Hold UP" with Intouchables and "Banlieue" with Booba. Each time, the Uncle continues to mark a little more minds, with this nickname that becomes official and a stature that is increasingly respected.
It is then solo that he will shine, since, on the side of the Mafia K'1 Fry and 113, it is less active. And the uncle will take advantage of his solo career to become the link between all the generations of FR rap, he who knew everything. Very broad commercial successes, as with "Maghreb United" in 2009, in which it gathers many artists with big hits. A little more confidential, as with "Head of Family" in 2012. Then, a real musical renewal in which he adopts the sounds of the new generations of Rap FR, with a resounding success. In the "Monster Tape" first, then in "Phantom" real cardboard (filled with feats with "young" like Sadek, SCH,...), followed by "Mutant", in 2019. A record that combines Rimk's new success and decorated it with a diamond single, thanks to the feat with Ninho, "Air Max". A hit that shows that the Uncle is really the coolest guy in the big French rap family, always up to date, insolent as in his debut, with both feet still firmly anchored in the neighborhood. Midnight" and "ADN" will also be two very good albums, with mixtures of styles between the old school, the Trap and the drill, new fashion now unavoidable. He is whispering that he could release an album by the end of the year, even if nothing has been announced by his teams for the moment. In any case, we may hear about Uncle Rimk for a long time, and that's not to our liking at Project X Paris.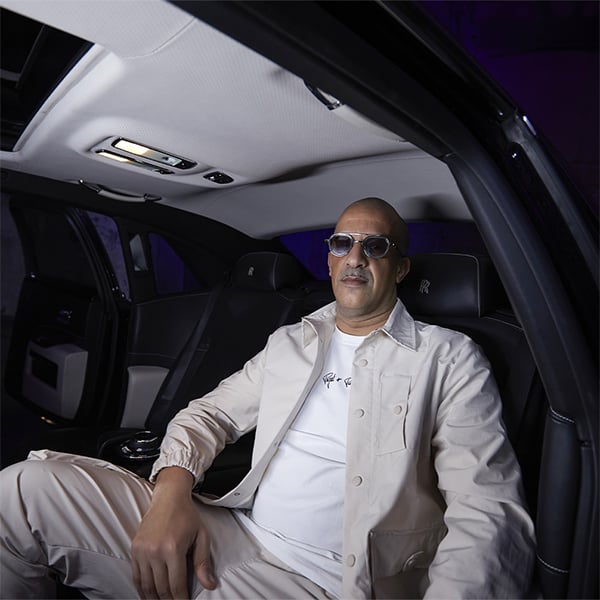 Rim K and Project X, the most authentic collab
We worked very recently with the rapper, and it's a partnership we're very proud of. We had not yet had this chance to work with artists who knew the old generation of rap but also the first steps of streetwear in France. So we decided to go for a rather elegant shooting, classy, simple and effective to respect the OG that is Rim'K. But we still wanted to put it well and offer him a nice souvenir of this shooting, by bringing back a nice piece that pleased him: an authentic Rolls Royce, in front of which the Uncle takes the pose, not hesitating to sit inside. We opted for a very light streetwear outfit to contrast with the dark exterior colors of the car: a multi-pocket workwear jacket in beige, with multi-pocket workwear pants of the same color. An outfit that highlights workwear, one of the oldest components of streetwear. Under the jacket, you can see a Project X Paris Signature t-shirt with the logo in black, the star product of our brand.
We stay in workwear, but we completely change the mood towards something more underground, a little less flashy, a little less Rolls. This time, head to a warehouse redecorated for the occasion, in «studio chill» mode with a big old school leather sofa, some TVs and speakers. And in the middle of all this we find Rimk, who has this time a two-tone outfit, black and white. A multi-pocket workwear jacket in black, above a t-shirt that is white. For the bottom, we find this same alternation of shades with the black multi-pocket workwear pants, and the pair of white Air Force 1. We added to the outfit a black Monogram bag from PXP, for the little adventurous touch of the street. And that's it! An outfit both sober and classy, which goes well with the Uncle's sunglasses.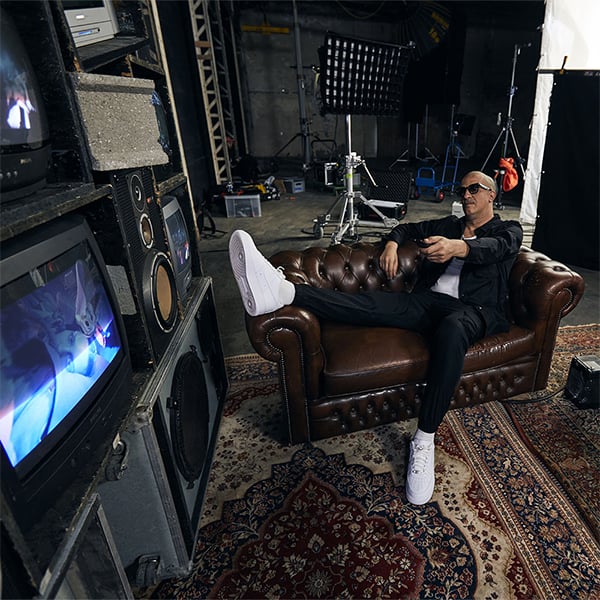 Finally, a last look a little more relaxed, but still inspired by the street, with this phone booth in which Rimk sits like the prince of his city. No random attempts there again, we remain elegant and sober, with a signature unisex round collar sweatshirt, white color, an essential of our brand. We also have the beige cargo pants for the bottom, which makes the transition with the rapper's Air Max pair, still white too. The look matches particularly well with the hues of the decor, and the rather light outfit will be a hit for your cooler summer evenings. If you ever go to places a little cold, we also gave Rimk the quilted Teddy jacket, in greige.
At Project X, we are very happy to be able to work with a taulier like Rim'K, and we are also announcing that a new kind of collaboration is coming with him very soon, we will meet you very soon.