As you know, in the street, solidarity is a primordial value, perhaps one of the most important. No question of going it alone, the neighbourhood guy wants to take his whole team with him. Influencer Nasdas has always carried these values as a standard and today, at Project X Paris, we're delighted to be able to help him out a little by providing saps for the whole team!
From Saint-Jacques to the top Snapchat trend
Who would have thought that a guy from Perpignan, coming from the Saint-Jacques district, one of the most disadvantaged in France, could become a major influencer, with numbers of views that would make some of the world's biggest influencers dizzy? By his own admission, Nasdas himself found it hard to believe. Yet his success story, which began during confinement, has grown into an exemplary journey that will surely serve as an inspiration to all the young people in his city. He had already made a name for himself in 2018, when bulldozers threatened to destroy several buildings where he and his team had grown up. But since the various confinements, the phenomenon has taken on a magnitude that escapes even the principal concerned. Faithfully supported by Samos and all his buddies in the neighbourhood, the young influencer, only 25 years old, has put his neighbourhood of Saint-Jacques back on the map, where all communities mix with a real desire to live together. Several faces that regularly appear in his videos now have a good visibility, a very local anchoring wanted by the influencer.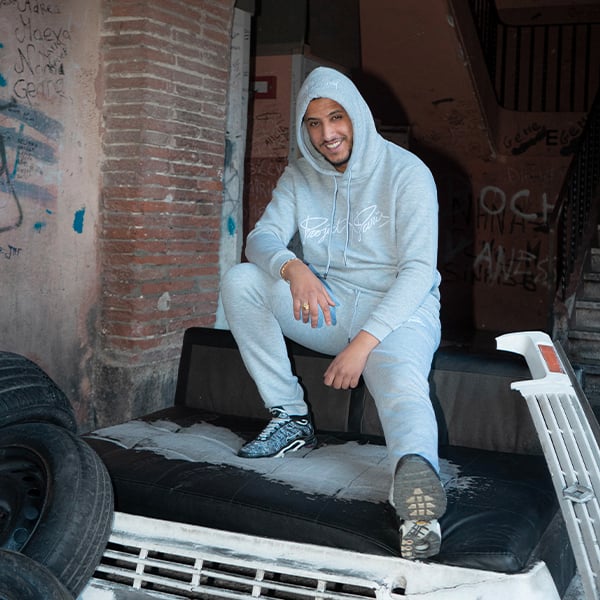 In an interview, he said: "90% of influencers go to luxury countries to avoid paying taxes. We show our poor friends and our poor team. All we promise you is 'dogness'". So the tone is set, Nasdas will not compromise on his values and he is determined to be one of the spokespersons for his neighbourhood, whatever it takes. It's no coincidence that he and his team have been making the rounds of the media, with appearances on Konbini, Brut, Rap Jeu, and Skyrock. A refreshing arrival in a world of influencers where everyone ends up looking the same, going to the same places, talking about the same things, wearing the same clothes. Authentic to the tips of their sneakers, the Nasdas team carries the street as a standard through videos that are often very humorous and have a huge success in France, not only in the neighbourhoods.
The man who started his professional life as a salad picker, then as a building guard, is now piling up millions of views as if nothing had happened. A king of buzz, with a well-controlled communication, even if it remains very spontaneous. The proof: his now very famous "blue card operations". Nasdas reveals the codes of a bank card with a huge amount of money credited to it, and lets his fans use it as they please, to make themselves happy. The phenomenon became so big when the first edition was released that Amazon thought it was a scam and started blocking the accounts of users who ordered with the card. The next time, it promised an even larger sum of money (50,000 euros), with the presence of a bailiff to put some seriousness into it all. A novel initiative, which will certainly remain unprecedented: it is hard to imagine influencers in Dubai donating 50,000 euros to their subscribers. 
Team Nasdas x Perpignan x PXP: the winning trio
Because yes, the Nasdas team, well established on Snapchat, is above all about sharing. It is in this spirit that we wanted to give them a little help, after having already collaborated with Nasdas and Samos earlier this year. It must be said that the duo were themselves very fond of the brand, and we often see them with Project X Paris on their shoulders, and of course, we're very happy about that. So when Nasdas told us that he wanted to undermine his entire team in PXP, we jumped at the chance. Especially since our brand now has a special relationship with the city of Perpignan, since we opened an official shop there, which is doing extremely well and we are very proud that a brand with a Parisian identity like ours is so popular in the South of France. This shop has created a real proximity between PXP and the city of Perpignan, and its inhabitants give it back to us, so it was only natural that we provide everyone with something to wear like never before!
Especially since Team Nasdas decided to organize some wild shootings, sometimes on the street, and the result is quite incredible with very authentic, very natural pictures. Sometimes posing in front of the walls of their buildings, with tags and nice frescoes, or just in the street, with shots that transpire authenticity, naturalness and good mood. In the choice of pieces, the team showed a lot of taste, often opting for the most street-wise pieces, like the black t-shirt with a rainbow gradient logo pattern from the Springbreak capsule. The denim jacket, or rather the jacket with denim inserts from the Patchwork capsule, was also a big hit with the Perpignan team. We also had tracksuit sets that look great in the photos, a two-tone hoodie from the Mirror Denim capsule worn with style and even the colour-blocked shirt, one of the most streetwise pieces in our catalogue, which refers to the style of some 'Chicanos' on the other side of the Atlantic. We also had some more classic pieces (white t-shirt, etc...) and more discreet, which are also very effective. 
On top of all that, Nasdas and his team organised a big contest with us during the beginning of July, with a PS5, clothes and a lot of other things to win. The opportunity to thank the community of one of the biggest French influencers, a really lovely, dynamic, respectful, reactive and united community, just like the urban youth of France. It's a real pleasure to collaborate with such cool people, we wish them all the best for the future, of course, and hope to have the chance to do this kind of event again in the near future!