We had warned everyone: the competition organized by Trace and Project X Paris was going to make noise on social networks. We were not mistaken, it is madness and there are many candidates. Especially as rappers and influencers like Kader Diaby have sent a lot of strength to the project. Up to a crazy rap to promote us !
Kader Diaby kick on the beat for Project X
We did not imagine to provoke such a tidal wave by launching what was at the beginning a simple contest game, in partnership with Trace. But clearly, the scope of the event had been underestimated. Since the launch of the game at the end of 2022, the Project X Paris and Trace teams have been drowning in applications. It must be said that the context is propitious, with the 2022 rap year that we have just spent, including the first season of "New School" which may have made people want to start. There are a lot of you there, and for that we thank you and we will do everything to choose the best of you.
For those who are not yet familiar with the rules, we will quickly remind you of the principle of the "Your Project Your Trace" competition. Two productions were created by Dezess (with Saint Trust for the second), in very different atmospheres. One, rather trap/ drill that follows the current trend well, and the other in a more sunny mood, more dancing perhaps. To participate, simply download them, register online by clicking on this link, and kick us a dinguerie on them. All you have to do is send us all this, and you officially become a candidate! With, at the key for the winner, a studio recording, but also the shooting of the clip, and its broadcast on the channels of Trace. In short, what to launch a career, if you manage the future well. Then on your microphones !
One of the other reasons that explains the big success of this contest is also the strength that was sent to us by many influencers, who did not hesitate to talk about it on their networks. With obviously Nasdas, the representative of the «shit» made in Perpignan, but also Kader Diaby 4Real, the influential rapper who also hit hard with his EP «Prototype» in December 2022. The artist sent us an unexpected boost, by posing a crazy verse to promote our game, on a very punchy and very current prod. The gestu, the attitude, the flow, everything is there and we obviously thank him for having applied so much for this event. He also made another video with Nasdas, a short film to raise the pressure around the contest. Anyway, he's 100% invested.
Nasdas promo for Your project, your trace :
PXP x Kader Diaby, the tough collab
And it is no coincidence that the artist invested so much in this project. It is due, already, to his personality, he who is always generous when it comes to making the show and ambiancer everyone. This is what we liked about him, in addition to his versatility. And that brings us to the second reason: because we have been collaborating with Kader Diaby for several months now, or he has been sending us strength via social networks. He is one of our most active ambassadors, he has proved it again in recent weeks, but he is also above all a great lover of fashion and clothing. He knows streetwear, we can even say that he masters the codes perfectly, and he even knows how to pose in front of the lens when he becomes a model for Project X Paris, during our shooting with him and Boris Becker.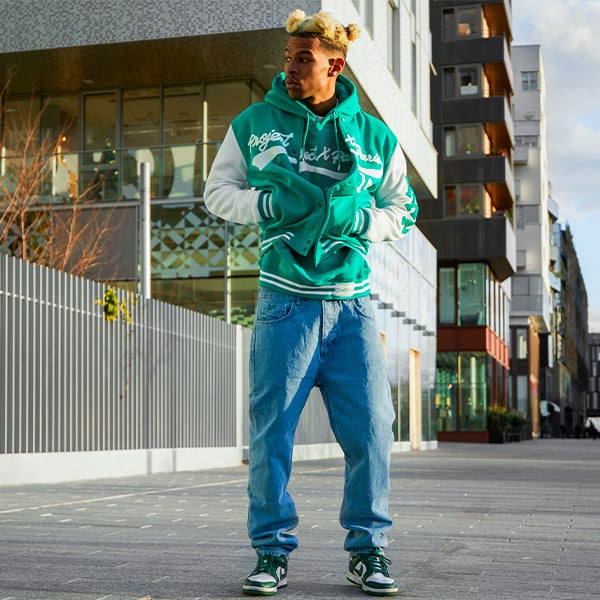 A very successful shooting, it must also be said that they were treated with a special treatment with several emblematic capsules of our catalog. Starting with the University capsule, and its centerpiece : the bomber style Teddy jacket, like those worn by American students in all the films and clips of the 80/90's. We can say that even at 23, Kader Diaby knows his classics and that he masters them. But still keeping a touch of fantasy, with this green color rather unusual but very effective, and putting a hoodie of the same color underneath. All worn with jeans and a pair of Jordan in the colors of the jacket, and the trick is done, we have an almost perfect outift, with a beautiful nod to the 90's and a very important period of streetwear and urban cultures. 
But the artist is also very comfortable with the latest trends, including our classic Signature hoodie. But here again, he decides to stand out with a signature hoodie + jogging stocking set in full pink color, all worn with the square shoulder bag and his wallet, all matching. It's risky, but it's a big yes and it fits her really well. Finally, we finished on the Patchwork capsule, a capsule with quite avant-garde design, as you can see on the jacket and pants, with inserts of different colors, lighter or darker. All on denim-style fabrics, and worn with a Project X Paris hoodie and a pair of Jordan. Here again, a super stylish, efficient and timeless look. 
We loved working with Kader Diaby 4Real, as we call him on the networks, where he is very well followed. We obviously thank him for all the strength he has given us in recent months, with his always cool stories, and we wish him the best for his 2023 year, during which we imagine that he will have many projects. Hoping to collaborate with him again soon !