Kalash collaborates with Project X Paris
If we had to choose 10 songs that have marked the rap game in the last ten years, Kalash would be in the top. With "Mwaka Moon", he exploded the charts. But his career is much richer and longer than this simple success, the artist has managed to establish himself as a world reference, especially in the dancehall. He is also one of the most stylish personalities of the game and this, at Project X Paris, we adore ! 
For a long time the sound of the West Indies suffered from a lack of visibility in France. Even in the West Indies, the media did not necessarily reflect the musical diversity present on the spot, and in metropolitan France in particular the dancehall remained confidential for a long time. While Caribbean communities have obviously always been connected to what was happening there, the rest of the population was not necessarily aware. Until the explosion of Admiral T. In the mid-2000s, the Guadeloupean star had an incredible success with music, heavily influenced by dancehall and reggae, where the Caribbean identity is omnipresent. He even manages to turn into hits songs on which he sings in Creole, a language little mastered in metropolis. Its success went far beyond the French or West Indian borders, and paved the way for what would follow. And what followed shortly afterwards was the Kalash phenomenon. Obviously very marked and very inspired by the music of the star, Kalash launched into music in the early years of 2010.
It is not necessarily a natural career for a man who is the son of a philosophy teacher, and raised in a very religious setting, having attended almost only religious institutions throughout his schooling. But Kalash's father was also a music lover and a fan of Lenny Kravitz, as was his son. And in view of the rest of his career, we imagine that Kalash was inspired by Lenny's sense of style, on this side showman, which shines, by being generous with the public. He started working in the dancehall in 2003, almost 20 years ago, when he is not a major. He released a first album in 2010, and began to have a real local visibility. Then in 2013, he released a second album, on which will appear a featuring with the legend Admiral T. A consecration in itself but Kalash will not stop there. His single "Bando" with very gangsta vibes will be a hit all the way to France, same for the album that followed, "Kaos". 
This time there are two featurings with Booba, who will sign the artist on his label, and the gold record will be reached in less than two months. One big performance, but it's nothing compared to the next tidal wave. This tsunami, it is called "Mwaka Moon" and it will win all the competition in its path. With this album, Kalash will succeed in imposing a real musical paw, walking between song and rap, while using very little autotune, because he has the chance to sing very well. Even graphically, the clips are slaps, whether it is the single "Mwaka Moon" or the clip of the song "Y a vla", also extremely beautiful. With this project Kalash reaches a true status of star and since then, he lets his creativity run wild with two albums, "Diamond Rock" in 2019 and "Tombolo", released in April 2022. Projects in which the artist has multiplied feats, with all the headliners of the game, including Gazo, Damso, or Wejdene. He goes where we don't expect him, and continues to surprise and diversify with each outing. And that, at Project X, we love it !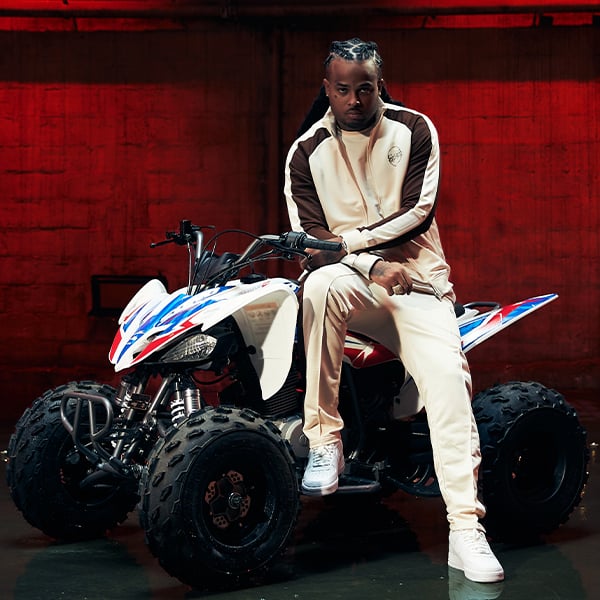 Kalash & PXP : 100% stylish
Visually, Kalash has taken over every project, with outfits always more stylish and more original. All while keeping a very street image, even when he had the opportunity to parade for the Blue Marble brand during Fashion Week in 2020. Obviously, it fits well with the image of our brand and we were delighted to be able to collaborate with him. He played perfectly, having already a lot of experience in the field, it was rather easy from the first outfit. An outfit from the 90's capsule, with two-tone band clothing that gives a style that is both sober and classy. A white jacket with brown stripes, with a stylized logo and a very clean old-fashioned design, with two-tone trousers with inserts, which takes the same colors for the stripes. All worn with white sneakers and some jewelry, it gives a crazy look. The same goes for the oversize university-style jacket with embroidered crests, also 90's inspired, with a brown color that is very effective. Above all, it fits very well with the atmosphere of the decor, kind of undergound garage, with a circle of candles on the ground that adds a bit mystical side. And for the adventurous side, we brought this small quad Apollo Sano Predator with a very aggressive look.
Kalash has a sense of detail, because with his jacket, he wanted to add a PXP bag on the shoulder, which reinforces the street side. We then went to something even more American in the influences, with the University capsule, inspired by the clothes worn by American students in the colors of their campus. In a more musical setting, with a white background and speakers stacked everywhere, Kalash perfectly wore the university ensemble in white and green colors. A university jogging bottom with white and green stripes for the bottom, and a university hoodie in the same colours, with a big central "P" as a logo. We add a pair of sunglasses for the attitude, then we finalize everything with a visually striking piece, the oversize university quilted jacket, in the same colors. And we get a perfect tool, which pays tribute to iconic pieces of streetwear.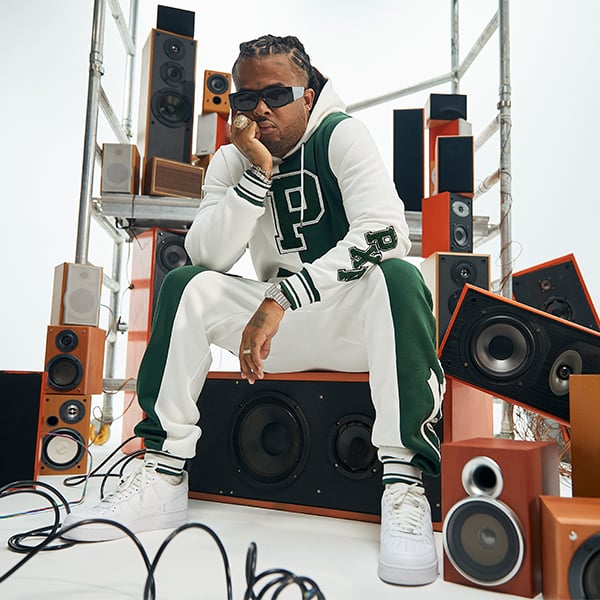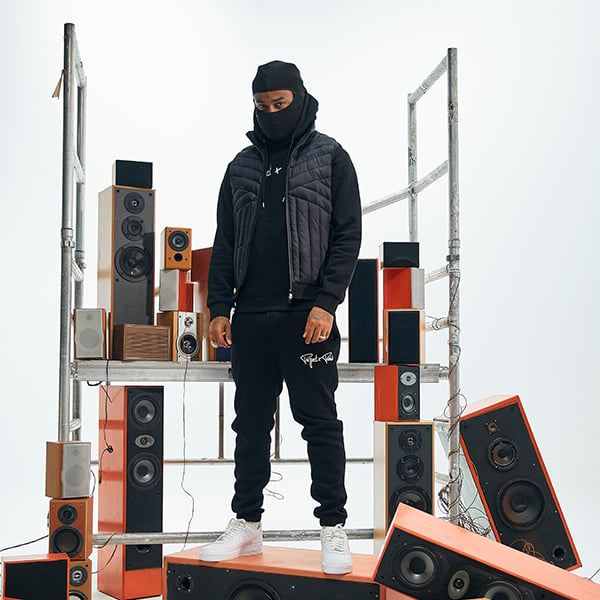 Same decor for the last part of the shooting, but the colors will change! Winter black and a little darker outfit, with the classic Signature Project X Paris outfit. Our emblematic outfit, so to speak, the one that continues to make us known and Kalash the door in all simplicity but with a lot of style. A black PXP signature hoodie for the top, a black signature jogging bottom for the bottom, with a watch and a pretty shiny chain for the touch of light, and again, it's a no-fault. We even took the liberty of trying something by adding a padded vest from the «Drill & Drip» capsule, one of our last outings, which gives pride of place to the winter clothes appreciated by drillers. All this, worn with a hood, obviously, indispensable tool for all those in the drill. In short, an excellent moment spent with Kalash, who did the job to provide us with beautiful shots. We hope to be able to renew this collaboration in the very near future, because we feel that he loves the undergarment and we could not dream better as PXP muse. We wish him all the best for the rest of his career, which promises to be incredible.
Project X Paris is the bet of two young French designers to combine urban lifestyle with current trends. It is a tasty blend of fashion, culture and minimalism. Combining lifestyle and streetwear, the young brand born in 2015 conquered the biggest cities such as Dubai, Berlin, London and Los Angeles before settling in Paris.
To discover all the information about all our collab preview :
#STAYCONNECTED