Gambino la MG collaborates with Project X Paris
The banger has become an inevitable exercise in French rap, and at this game, Gambino La MG is one of the best. The young rapper from Les Ulis started rapping not so long ago, but he already has an impressive discography, and a real ease in front of the cameras and the objectives. The proof, with this collab between the rapper and PXP !
Les Ulis, a great reservoir of rappers
If we have to draw up a list of places that have strongly marked and influenced French rap, the 91 is in good position. But even in 91, there are schools, influences, filiations, among the rappers of the 90s until now. The school of Evry, Grigny, Corbeil, but also that of Les Ulis, which has known a great spotlight in the years 2000 under the impulse of Sinik and his monstrous national success. But "Niksi", as he is called today, was only the tip of the iceberg and the pool of very good rappers from Les Ulis, although less known, is enormous: Grödash, and many others, almost all of whom have a real mastery of kicking, but also of clashes and battles. A bit like the fighters of the rap game, with rather punchy styles, a rather angry and street rap. Aspects that we find, 20 years later, in Gambino La MG, a young rapper from the same neighborhood. It is moreover all but a chance, since he regularly quotes the glorious elders of his street as influences, people who gave him the desire to rap.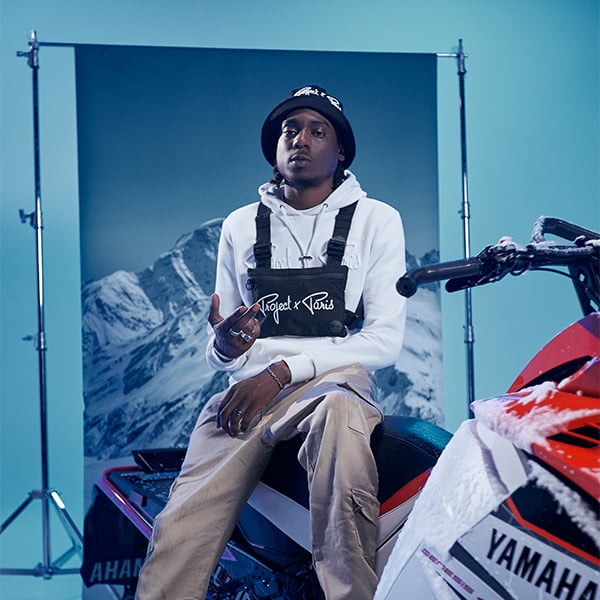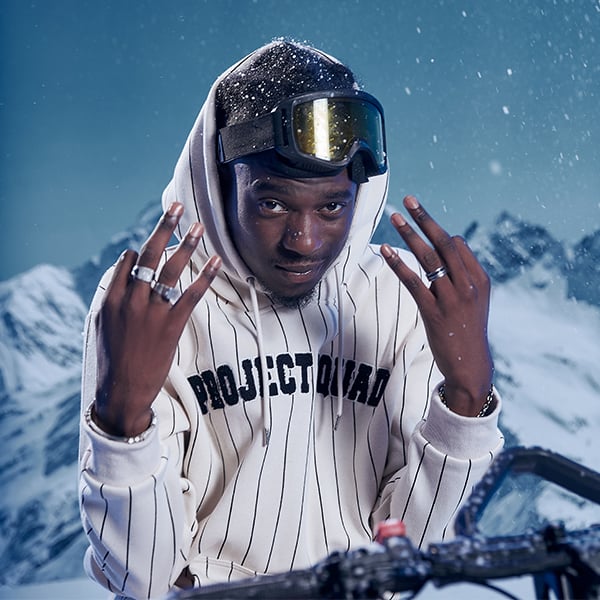 With his friends from Les Ulis, they created a big Facebook group for all the young people in their town who wanted to rap. The group was called "La MG", for Mauvaise Graine, two letters that have never left Gambino's nickname since. When they wanted to release a real song for the first time, the 7 most serious got together and that's how the collective La MG as we know it today was born. But the more time passes, and the more the young rapper also wants to try the solo adventure, especially after a rather difficult confinement during the year 2020. He then begins via Instagram a series of numbered freestyles, quite short, to become as viral as possible, and it is a success: some now have several million views, even after being re-published on Youtube. We can't repeat it enough, but mastering social networks has become inevitable for today's rappers, and Gambino La MG does it very well. So well that he ended up being noticed by Sony, which signed the young rapper via its label Hall Access.
Following the lightning success of his Insta freestyles series, he decided to transform the test by multiplying the featurings, in order to generate streams, and thus visibility and also money. A good idea, which will make him participate in "Rentre Dans le Cercle", the show hosted by Fianso, but also in "Classico Organized", a project with multiple awards. At the same time, he will also unveil his first solo project, "En attendant Gambinerie", a hidden reference to one of Sinik's first solo projects, "En attendant l'album", released in 2004. For Gambino, it is a big project of 21 tracks to introduce himself to a wider audience, thus announcing an album, "Gambinerie", which he will release in 2022. A fast sequence managed by a master hand by the rapper from 91, who is now comfortably installed in the French rap, with a music both influenced by the drill but also by several African sounds, he who is of Congolese origin. With all these featurings and participations in various projects, the artist has shown that in addition to being a hard worker, he was also versatile and at ease in all moods. And that, at Project X Paris, is something we like a lot!
Gambino la MG & PXP, gangsta attitude
The advantage with these rappers of the new generation is that most of them know how to control their image, manage it, even play with it sometimes, not hesitating to put themselves on stage. A looseness that is a pleasure to see, compared to the sometimes strict / austere side of the old guys of the game. For Gambino, the image is easy: he became known through Instagram. So we were able to make him go through a lot of outfits during the shooting, with, as a common thread, this will to keep an image / attitude of "gangsta rapper" imported from the USA. For the first outfit, it is a rather cult style, the university style, very present in the rap game. The capsule "Varsity" is very inspired by this kind of pieces, and the rapper wears them perfectly, in front of the Lamborghini all white. Ahoodiewith logo, two-tone, with the big "P" in logo, whose typography recalls that of the university sports teams in the States. And of course the two-tone stripe jogging bottoms, for a successful overall effect. Add to that a small pair of white TN to complete the whole, and we have a very effective outfit.
But the rapper is not done with the Lambo, and the second outfit is truly emblematic of the French street racer. A nice white bob on his head, and an outfit from the brand new High Fly capsule, one of our must-haves for the fall of 2022. Below, theloose joggingwith dove motifs, in blue, married to the white TN pair. On top, the loose sweatshirt with dove motifs, still in blue, for an effective overall effect. Finally, the little touch that makes it all: the square shoulder bag with its wallet, all decorated with Project X Paris logos. A truly emblematic style of current French streetwear, very street, very functional and at the same time very chic and sharp. We then abandoned the Lambo to switch to something more aggressive, a snowmobile from Yamaha, and make Gambino the MG an outfit very inspired by the gangsta codes of US rap. It is the return of the Squad capsule, with new models for this fall 2022. A striped jogging style baseball for the bottom, a striped hoodie style baseball with a big logo on the chest for the top, and a pair of black sneakers, for a hyper street panoply. Especially if you add the ski mask, an object that has become cult in the imagery of current gangsta rap.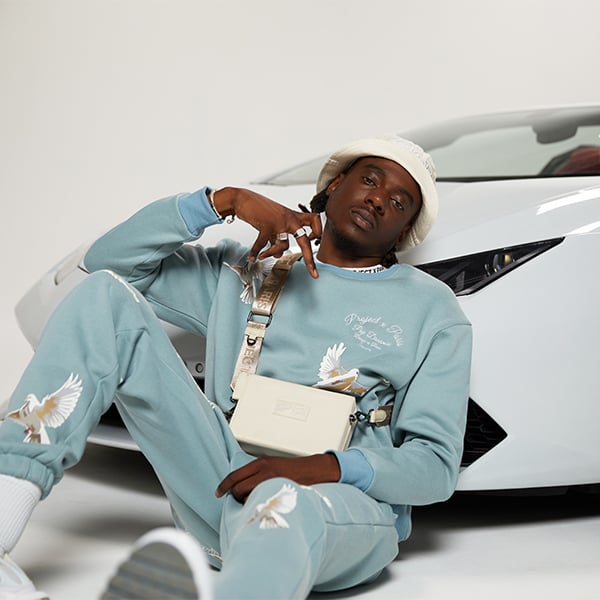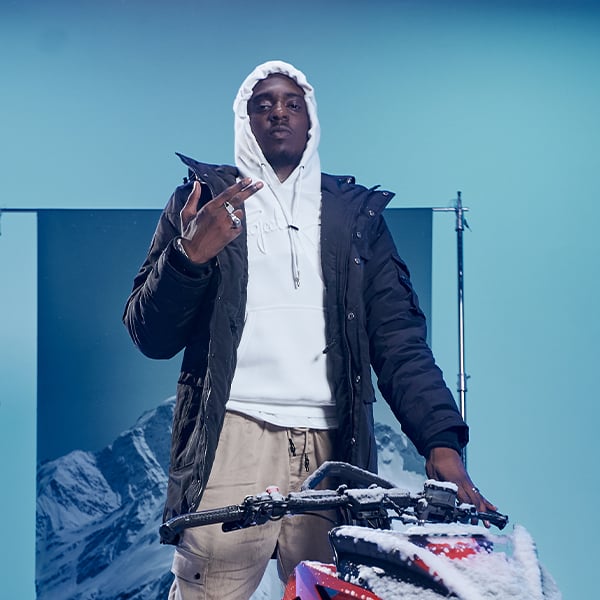 Obviously, it's not over, we couldn't leave Gambino without letting him try on various pieces from the "Drill & Drip" capsule that will quickly become a must-have for this winter. A capsule that focuses on parkas or quilted down jackets, which are very warm in December, but which have also become essential items in the outfits of drillers. We could almost say that this capsule has been thought for Gambino, who has rapped a lot in this style of music. Still wearing his ski mask, he put on a littledown jacketsleeveless over a white hoodie, all with beige multi-pocket cargo pants for the bottom. A small pair of Nike on top and you have a pretty iconic outfit for a driller. But it works even better with the big parka put on right after, a must-have piece in the current streetwear, since the advent of the UK drill. All this, always with this Yamaha snowmobile, reminder of the icy atmosphere that can sometimes reign in the street. It was a pleasure to collaborate with Gambino the MG on this shoot which gave us some really amazing pictures. We send him all the strength possible for the continuation!
Project X Paris is the desire to carry the streetwear movement since 2015 with increasingly stylish collaborations. A French brand of hype clothing available in more than 30 stores, at more than 1500 retailers around the world and on projectxparis.com 7/7/24
To discover all the information on all our collab in preview:
#STAYCONNECTED